Sometimes, people will congratulate you for achievements like a new job, promotion, winning a game, wedding, birth of a baby and passing an important exam, etc. Receiving a congratulatory message always fills our hearts with happiness knowing that there are people who support and wish us for the best in life. When our friends and dear ones send you congratulatory messages for your new baby, it's also a great responsibility for us to send them a reply.  To show them that you appreciate the message, simple thank you wordings from the heart will be enough to value their message. 
You should respond to their message to show your sincere gratitude and thankfulness. To show your thankfulness in a humble way, here you can find some heart-touching words on how to respond to congratulations for baby birth. In this article, you can get a beautiful collection of replies to baby congratulatory messages that can be used to express your thankfulness and gratitude to your loved ones.
Reply To Baby Congratulation Messages
Thank you so much for wishing my baby good health and happiness. I am really thankful for your kind and loving thoughts.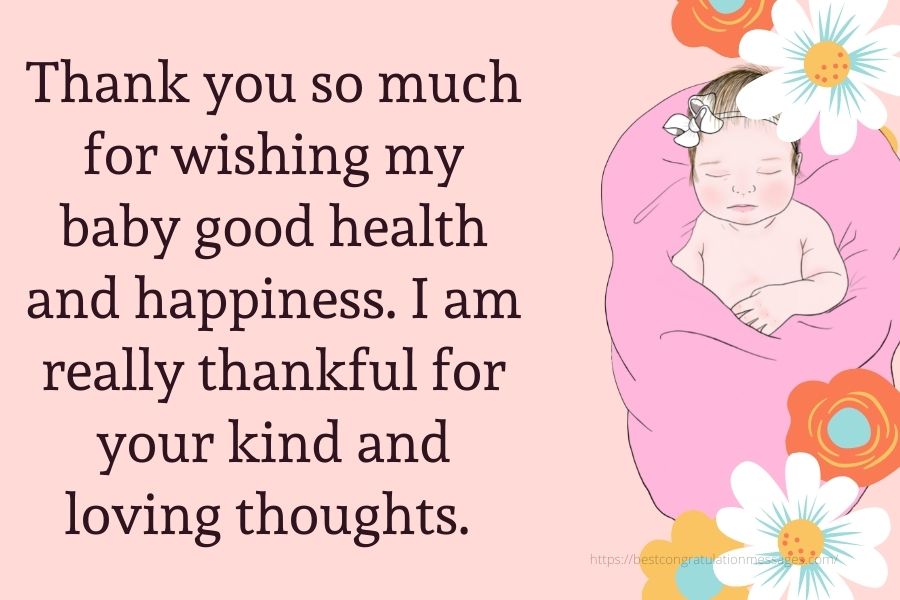 Thanks a ton for taking your valuable time to share such loving words and be kind thoughts for my newborn baby. It means a lot to me. 
I'm sure that my baby will live a joyful life because your love and blessings are with him. Always keep your blessings on my child.
I'm extremely happy to hear from you! We are indeed excited to be new parents, and we will try our very best to raise a healthy, happy baby boy. It is really an amazing feeling. Thanks a ton!
Thank you for sending your loving wishes to my little one. We feel great pleasure to receive your heartfelt wishes. Your boundless love and blessings always keep my child safe. Thanks a ton, dear.
Thank you dear for the positive wishes and congratulation message! I and my husband are so happy to welcome our first child into the world and add happiness to our little family. 
I feel really great after receiving your congratulation wishes. This is a new phase in my life, and I receive your immense love and support for me baby. Thanks a lot, dear. 
This is one of the most precious in my life. I'm so happy after receiving your positive thoughts and wishes dear and I am glad to know that I have your boundless love and support. Thank you so much, dear. Stay blessed always!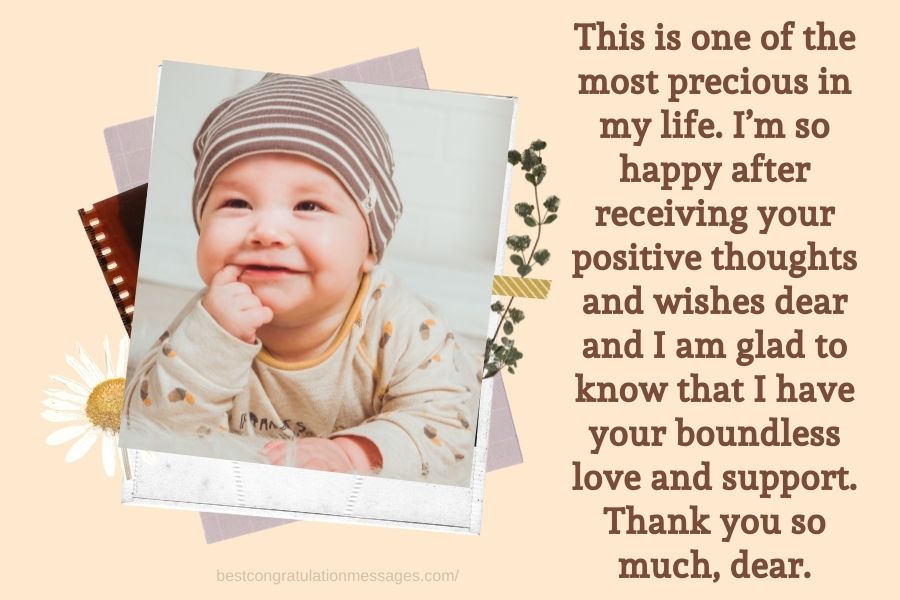 Thanks for your congratulations. It means a lot to me. We are very pleased after receiving your love and gift for our baby. Thanks a ton.
Thank you for your good wishes for my little one. This feeling is just amazing. Always pray that my baby would be happy and healthy all his life. 
Thank you for your lovely thoughts for my little one. I feel extremely delighted to hear you from. I express my heartfelt thankfulness for your boundless love and care for my baby. 
I feel so great to receive congratulations messages from you. Thanks!  I appreciate all your well wishes for my baby. Thank you so much.  I am grateful for a friend like you who make memorable this occasion.
Thanks for taking the time to send your positive thoughts for my baby. I highly appreciate your loving wishes and gift. It filled my heart with immense happiness.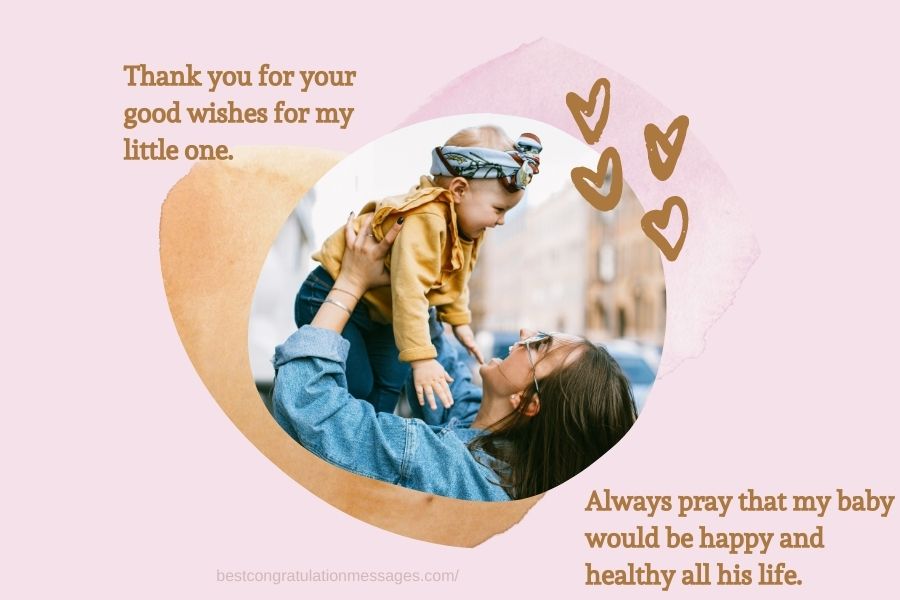 Thank you for your good wishes dear. Reading your congratulation wishes filled me with immense love and happiness. I am very fortunate to have friends like you who think of me and my baby's well-being. 
We express our heartiest thankfulness to you for your sweet congratulatory messages for our child's birth. Your loving and kind words are precious for us that we will treasure them in our hearts forever.  Keep your blessing on my child always. Thanks a billion.
Long Messages
I feel so lucky and blessed to be surrounded by people like you. Thank you for your good wishes. After reading your loving congratulatory note, I felt extremely happy. I express my thankfulness for sending me those warm wishes and blessings on the birth of my baby. I feel truly honored by your gesture.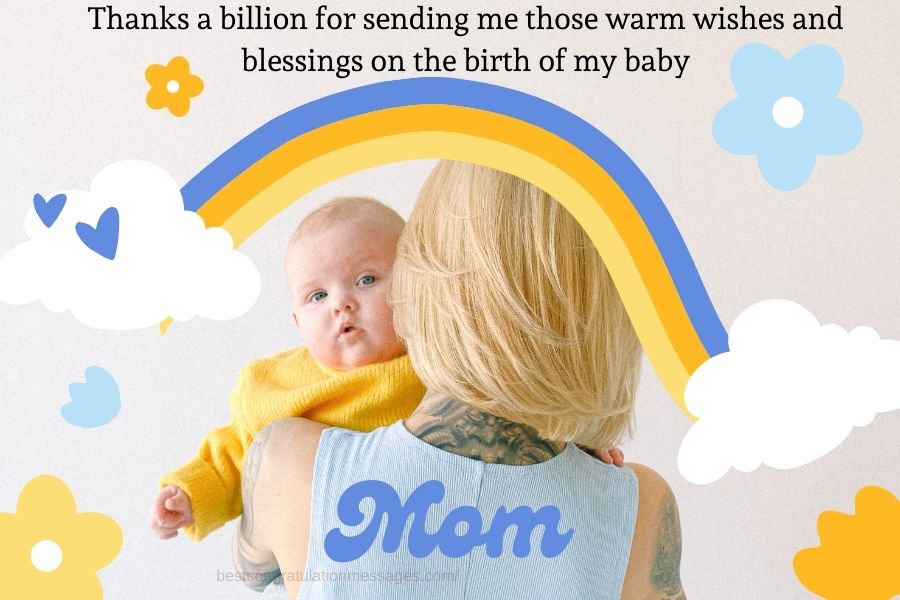 We express heartfelt thankfulness and gratitude to you for congratulating us on the birth of our beautiful daughter. We highly appreciate it. On the arrival of my child into this world, your heart-touching message of congratulation brought a lot of joy into my eyes and oceans of happiness into my heart. Thanks a million, times for your loving gifts, sweet wishes and blessings, and congratulations. 
The words are even not enough to thank you for your amazing and kind congratulatory message on my baby's birth. Thanks a ton for giving your precious time to type and send me that sweet note of wishes and blessings for my little one. I feel privileged for your good wishes and congratulations. Thanks a billion.
Thanks a billion for sending me those warm wishes and blessings on the birth of my baby. I am truly honored by receiving your positive vibes. I send this note to express our thankfulness for congratulating us. We highly appreciate your heart-touching words from the bottom of our hearts. Thank you!
Thanks a million for taking your valuable time to send your heart-touching wishes, blessings, gifts, and congratulations on the birth of our little one. We are so lucky to have a friend like you in our life. I feel great joy when I read your beautiful congratulation wishes note. May God bless you always.
Thanks a ton for your amazing wishes and congratulations on the arrival of my baby. I can't describe in words how great it felt reading those amazing lines. I highly appreciate your love, affection, and way of extending your congratulation wishes to me for my new baby.
Thank you for sending your congratulation note for my little one. I feel really blessed that you are always there to love and support memes, I would like to extend my heartfelt wishes to you, I am overjoyed by the love and support for my baby and my family. Thanks again!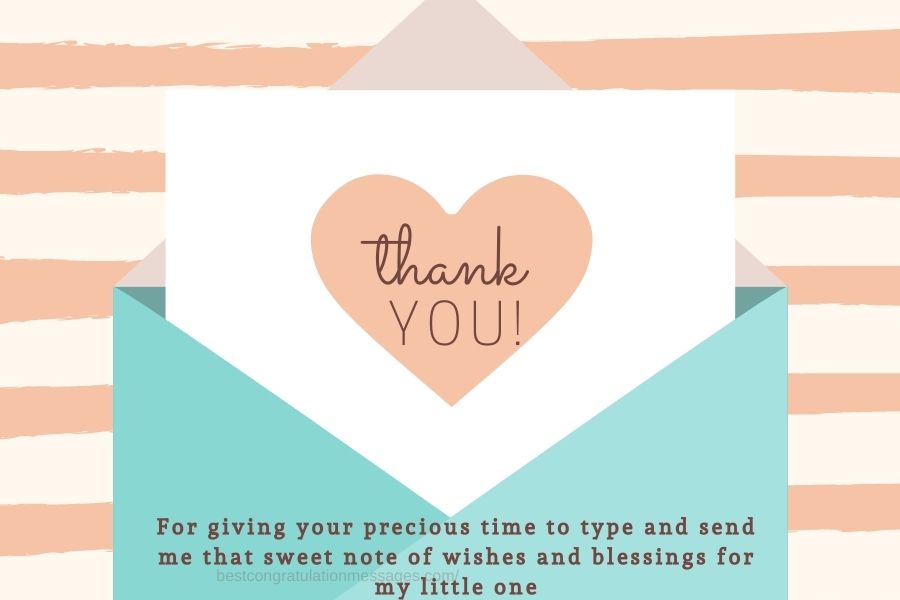 Thanks a million for sending such loving congratulation greetings for the arrival of our baby. We feel so grateful to have you in our life. We cannot face all the challenges along the way without the support and encouragement of our dear friends like you. I highly appreciate your kind and loving message, my baby. 
It gave me immense pleasure when I receive your flowers and notes at the hospital, thank you a lot. Giving birth to an amazing baby boy is such a bundle of joy and happiness. I am so fortunate to have you around in my life. I extend my sincere thankfulness for your congratulatory thoughts and kind words. I truly appreciate it. Thanks a billion.
Thanks a ton for your loving wishes. Your beautiful congratulations message means a ton to us. We are unable to express how I am glad to have this tiny little one in my hands. We are honored for your guidance and inspiration in becoming a parent as you are. Thanks again and Stay cheerful always!