The term 'congratulations' is used to praise someone else's achievements, no matter the achievement being professional or personal. When you congratulate someone for any type of accomplishment then that person is bound to feel emotional as it boosts their belief in themselves. When you send congratulatory messages about your boss's achievement, you should use professional and polite phrases which create a good image of yours. In an office, the relationship with the boss depends upon the nature of the workplace environment and individual personality. When your boss gets an achievement, you need to wish to make him/her good.
So you need to be very careful about when you send a perfect congratulatory message to send to your boss by email or text, card, or message. A certain emotion in humans triggers and your boss is no different. So whenever your boss gets some achievements, shower congratulatory messages on him/her to strengthen their confidence. To express your feeling to your boss send a perfect congratulatory message. Here you can find an amazing collection of congratulatory messages for achievement. 
Congratulations To Boss For Achievement
 Your guidance always leads me to my goal always. The unconditional confidence and charming personality make your all dreams true. Congratulations Boss on your big achievement!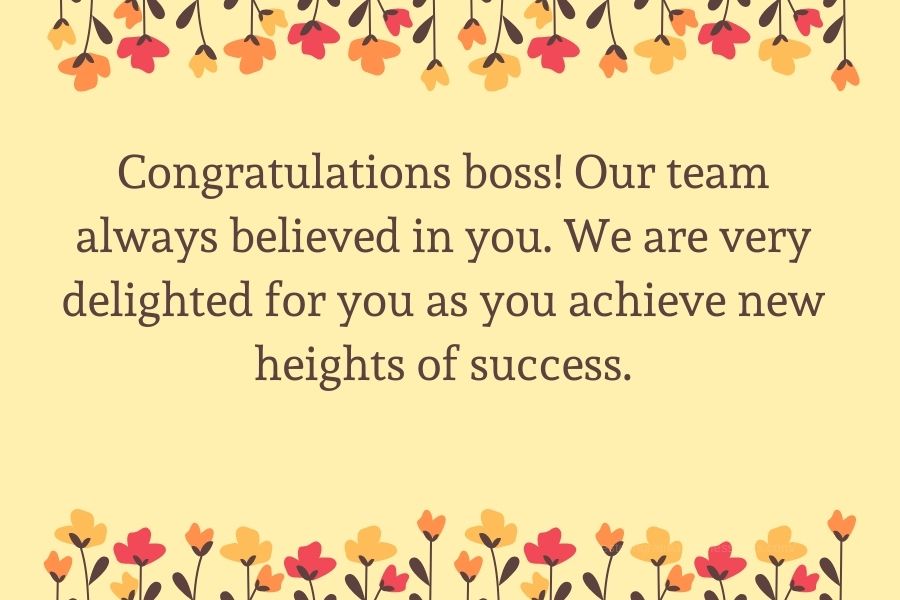 You are such an inspiration for all of us because you have shown us that being passionate and diligent to work is very important in achieving dreams. Congratulations! 
You always find positive things in everyone, which is very rare and a few people can do and you deserve many achievements in your life. Congrats.
Your hard work and perseverance to work are exemplary. We express our heartfelt congratulation on your biggest achievement and hope to enjoy the same in the near future. 
Congratulations boss! Our team always believed in you. We are very delighted for you as you achieve new heights of success.
Congratulations Boss! And wish you good fortune for your future. In the project, your success is well deserved. I express my heartiest congratulations to you for such an achievement. 
You are the best boss for us who always recognizes the hidden potentiality within us. On your recent achievement, I just want to take a moment to congratulate you.
You deserve heartfelt respect and appreciation from the entire team of this company. Congratulations sir on your biggest achievement!
Dear Sir, you have truly uplifted my personality and taught me a lot. This great achievement is because of your relentless hard work and efforts. Congratulations!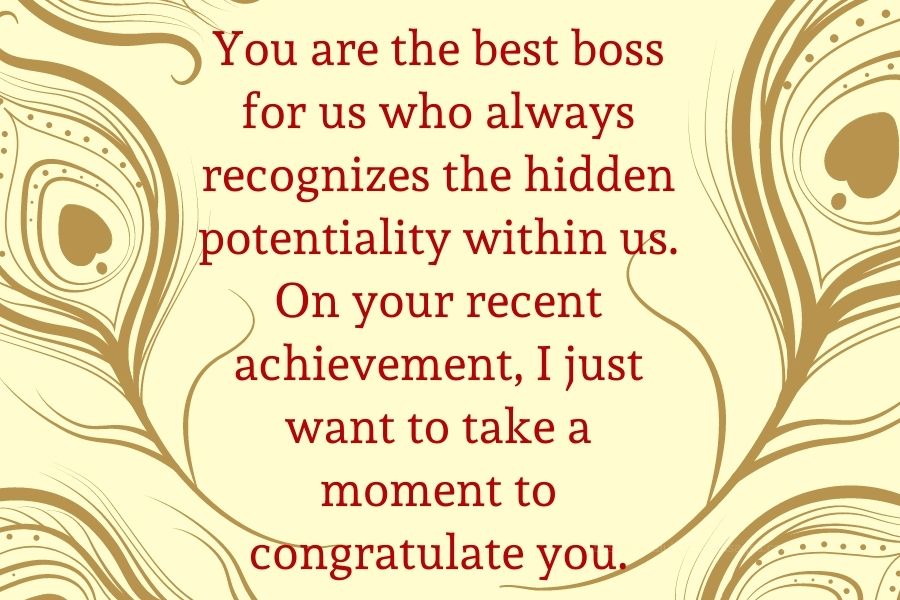 Dear boss, congratulations on meeting the company's targets with such great profits. I express my sincerest appreciation and gratitude to you. Congratulations!
Congratulations! You are the most inspirational boss any team can get. Your hard work and perseverance have surely brought you to the height of success.
Dear Boss, We extend our heartiest congratulations on this wonderful occasion. My heart is filled with gratitude every time I think of the countless hard work and effort you put to achieve this goal.
I pray that may God bless you with more such beautiful moments in your life. You are the best Boss that I ever meet in my life. Your support and guidance always instruct us in the right direction.
Congratulations Boss on your great achievement! we all feel honored to have worked under you. You believe in working with a free spirit and you are a perfect leader for us. 
Congratulations Boss on your success. You courageous attitude is inspiring to us and I would like to wish you congratulation for this joy.
Congratulations Messages To Boss For Achievement
Many congratulations to you, Boss. I have witnessed that you were working days and nights to achieve the impossible and that is really inspiring, Sir. Dear Boss, you are the only person I know who is highly dedicated at work. The most interesting thing about experiencing success and failure is courage and you possess that spirit. You have such a tremendous personality that always inspires us to do our best.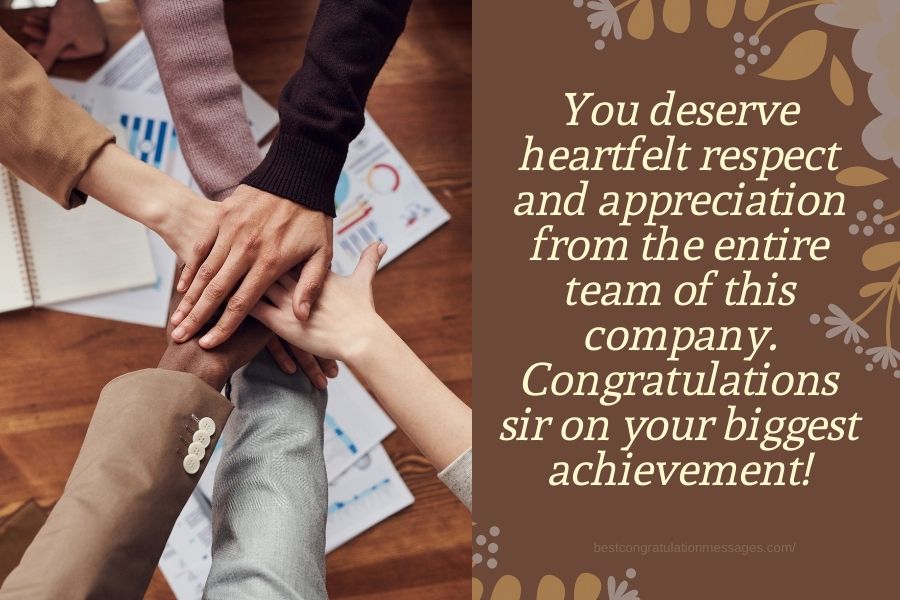 Congrats Boss on your achievement! Today is the biggest day, and may the almighty shower all his blessings on you on this auspicious day. My heartiest best wishes to you. To achieve the position, we witnessed your hard work and effort where you today deserve the grandest celebration of all. 
Dear Boss, I want to express my heartiest congratulations to you for achieving amazing success. May you always keep bringing this success and joy to us every year. Your dynamic personality and brilliance in everything you do is the true reason behind your amazing success. We learned from you that with courage and strong willpower we can make everything possible. I wish you the best things and the best of luck for the future. The things that you have achieved are an inspiration to us.
Dear boss, you have achieved success with your hard work and resilience. I extend my heartfelt congratulations to you. Wish you infinite success in the coming years as well. We feel proud to call you my boss. So just enjoy your success and keep going on. You have been always inspiring us to set goals. For us, you are evident enough that one day you will reach the highest level of success. 
Dear Boss, one of the most special days in your life has come at last and it is imperative that you must enjoy the award ceremony. Congratulations on receiving such a deserved award.  Sir, I know you have that spirit to make everything possible, and with your hard work and strong determination, you achieved this amazing success. We salute your work ethic.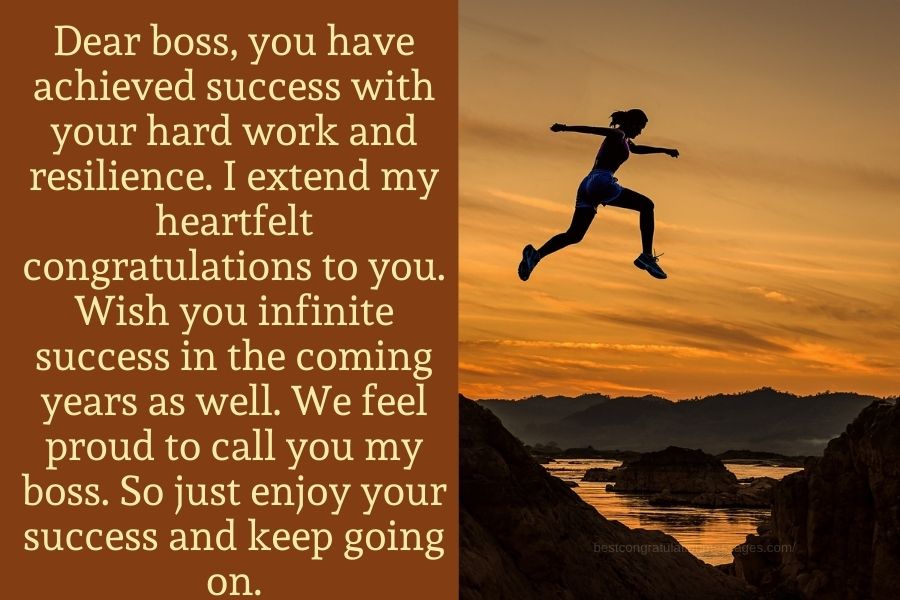 Congratulations dear Boss. I pray to God that he may give immense strength to achieve great things in life. I hope you enjoy every bit of your success. I wish you a wealth of peace, joys, harmony, and laughter, and all the things that you deserve. Keep inspiring and motivating us with your good vibes.
I wish you congratulations on your great achievement. Your support, guidance, and leadership quality always instructed us on the righteous path to do every work. You always recognize our hidden potentiality. With your continuous effort and hard work, you can now enjoy remarkable success. You are an inspiration for all of us Boss.
Dear Sir I would like to express my happiest wishes on achieving this great success. Congratulations on your success. You have such a positive spirit to win every situation in life. Your strength, ability, and potentiality brought outstanding success in your life. Always keep shining and smiling boss and enjoy your day today! We are proud of you sir.
We are all extremely glad about your biggest achievement. I wish you good vibes which will boost your confidence to achieve more successes in the coming years. Thank you so much Boss for inspiring us in so many ways because you are such a great mentor and leader. You truly deserve this big achievement. It is your knowledge and potentiality that has to lead you to your goals.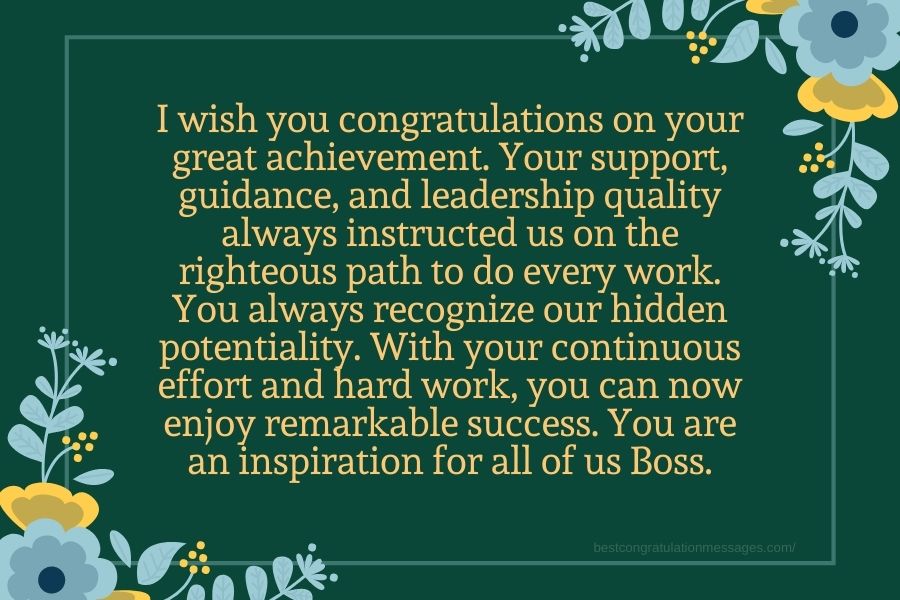 Congratulations on your new achievement. Keep achieving and continue to be a good leader to us. May you always keep motivating others with your good deeds. You are a perfect boss, leader, mentor. You always believe working with a free spirit and free mind will lead to reaching the heights of success. You know the way when to lead our team and you never let fail us by giving out your perfect guidance as a boss. We are so proud of you.