Obtaining citizenship is a profound milestone in an individual's life. It represents not just a legal status but a deep commitment to a new homeland, its values, and its people. The journey to citizenship is often marked by perseverance, dedication, and a desire for a better life. It is a transition that brings forth a wealth of rights, opportunities, and responsibilities. In this article, we present a collection of congratulations wishes messages, both short and long, to celebrate this significant achievement. Whether you're welcoming a friend, family member, or colleague into the fold of citizens, or you are the one achieving citizenship, these heartfelt messages aim to capture the complexity and joy of the moment, reflecting the diversity and unity that make citizenship a journey worth celebrating. Let's explore 20 wishes, from the concise and simple to the intricate and profound, as we commemorate this remarkable journey towards becoming a full-fledged citizen.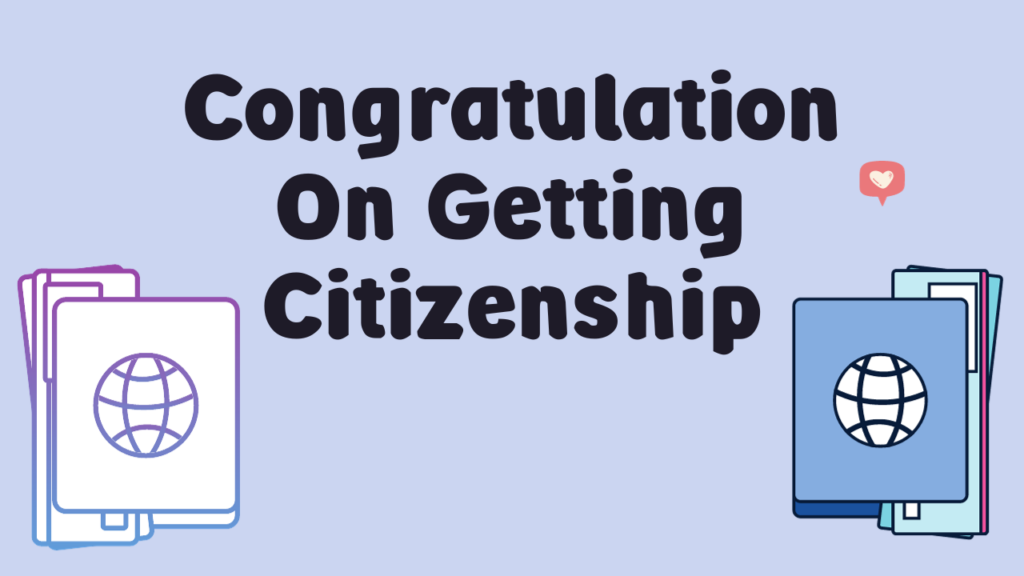 Short Congratulations Messages On Citizenship
Welcome to the land of dreams and opportunities! Your citizenship is your key to endless possibilities.
A new chapter begins today as you officially become a citizen. Cheers to the journey ahead!
Citizenship is not just a status; it's a pledge of loyalty. Congratulations on embracing your new home.
From here on, you're not just a resident but a true citizen. Embrace the privileges and responsibilities.
With your new citizenship, you've unlocked a world of rights and a world of belonging. Well done!
Your path to citizenship is a testament to your determination and love for your new homeland. Celebrate this achievement!
Today, your story as a citizen begins. May it be filled with joy, success, and profound belonging.
As a citizen, you're now part of the nation's tapestry. May your journey be colorful and rewarding.
It's official! You're now a citizen. Enjoy the freedom, embrace the diversity, and make the most of it.
Citizenship: the greatest gift a nation can offer. Cherish it, protect it, and thrive with it.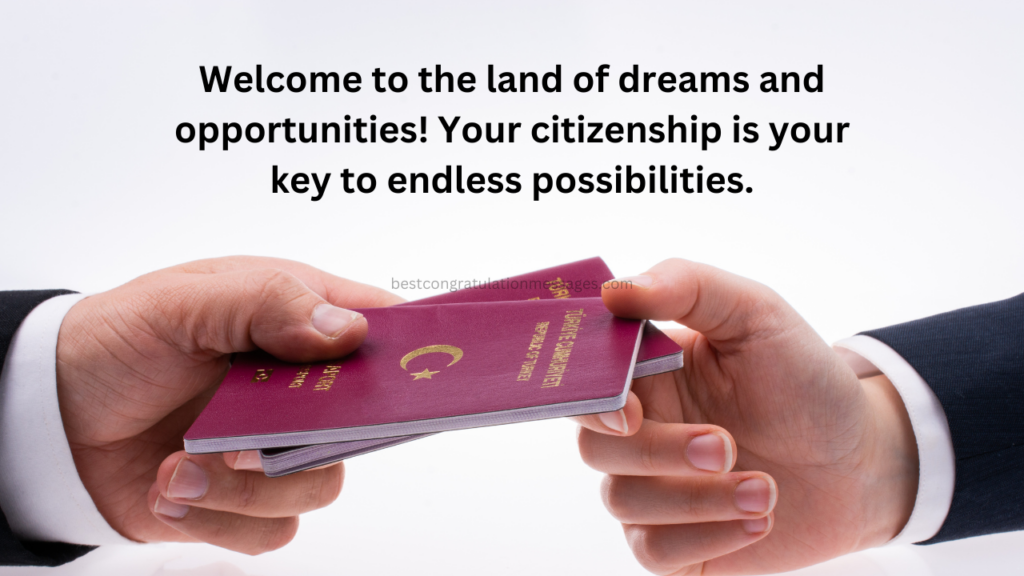 Your citizenship reflects your commitment to the values of this nation. Welcome to the club!
The road to citizenship is long and challenging, but the rewards are immeasurable. Congratulations!
May your citizenship bring you the best of this nation's treasures: rights, respect, and endless opportunities.
A warm welcome to the club of fellow citizens. May your journey be as vibrant as the flag you now salute.
With your new citizenship, you've earned a seat at the table of democracy. Make your voice heard!
Embrace your citizenship with pride, for it signifies your unity with the heart and soul of this nation.
Citizenship: your membership card to the world of rights, freedoms, and endless possibilities. Congratulations on this significant achievement!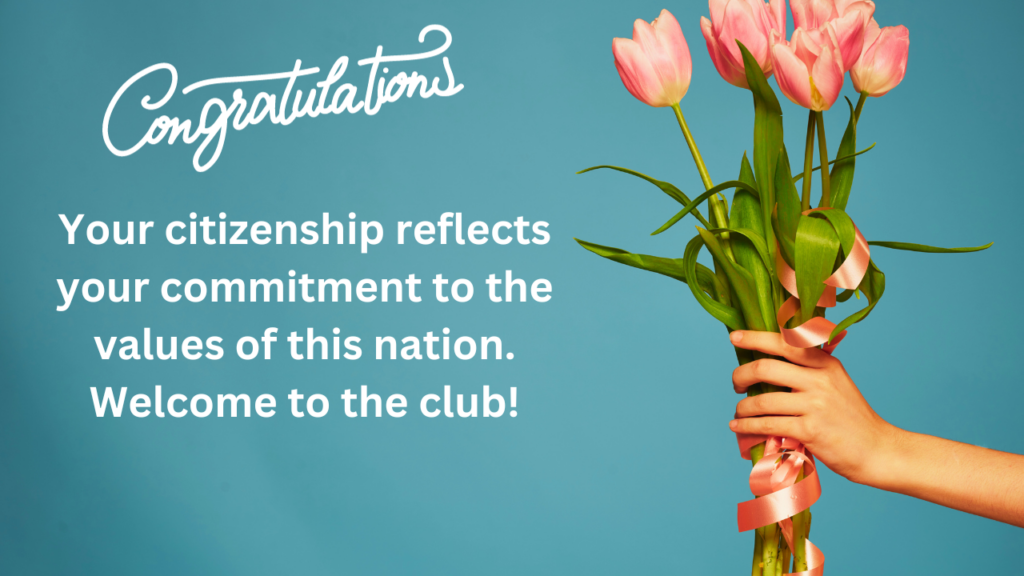 Citizenship is the start of a beautiful story. May each chapter be filled with happiness and success.
Congratulations on attaining the esteemed status of citizenship. The nation welcomes you with open arms.
Your citizenship is not just a document; it's a passport to a brighter future. Seize every opportunity.
From today, you're not just a part of this nation; you're a part of its legacy. Congratulations on your citizenship!
As a new citizen, you're not just a part of this nation; you're a part of its heartbeat. May your heart beat in unison with the rhythms of a brighter future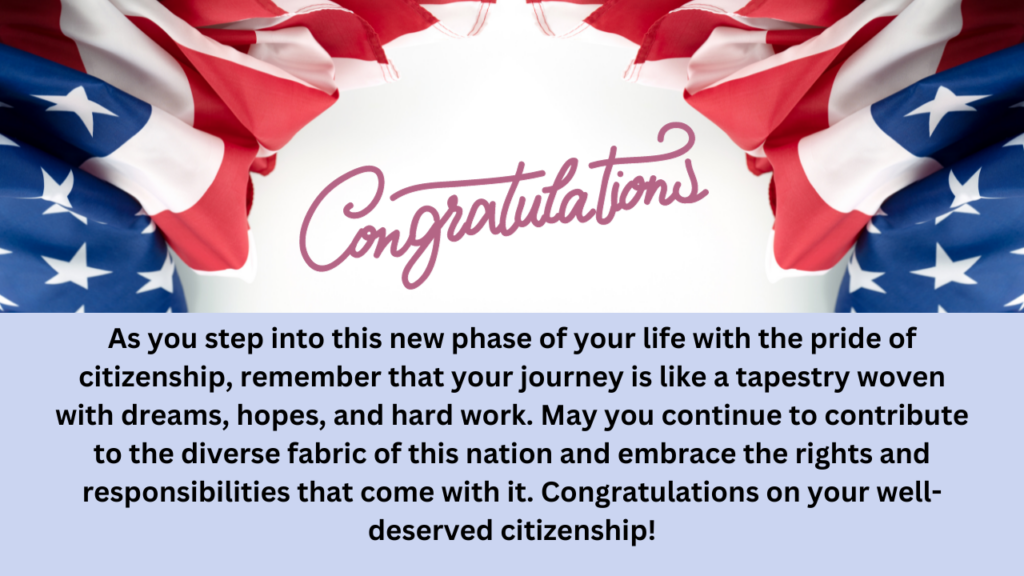 Long Congratulations Messages On Citizenship
As you step into this new phase of your life with the pride of citizenship, remember that your journey is like a tapestry woven with dreams, hopes, and hard work. May you continue to contribute to the diverse fabric of this nation and embrace the rights and responsibilities that come with it. Congratulations on your well-deserved citizenship!
Obtaining citizenship is not merely a legal process; it's a testament to your commitment, your dedication, and your love for this country. As you pledge your loyalty, know that you're joining a grand narrative of people who, like you, sought a better life and found it here. May your path as a citizen be filled with prosperity, unity, and unwavering belonging.
Today, a new chapter unfolds in your life, and the title reads 'Citizen.' This citizenship is not just a piece of paper; it's a symbol of your identity, your values, and your connection to this nation. As you stand on this threshold, I wish you a journey filled with fulfillment, exploration, and the realization of your dreams."
Becoming a citizen is not merely a matter of legalities; it's a profound transformation. It's an acknowledgment of your deep ties to this land, a commitment to its principles, and an embrace of its rich diversity. May your journey as a citizen be marked with an unwavering dedication to making this nation an even better place for all who call it home.
With your new citizenship, you've unlocked a door to a world of endless opportunities, a world of shared values, and a world of belonging. It's a journey that will have its ups and downs, but it's one worth taking. Cherish this moment, and may the years ahead be filled with prosperity, inclusivity, and a deep appreciation for the rights and privileges you now hold.
Your path to citizenship has been a journey of commitment, resilience, and dedication. Today, you stand as a testament to the ideals and principles this nation holds dear. May your citizenship bring you not just rights but also the responsibility to contribute positively to the progress and unity of this great country. Congratulations on your citizenship!
Citizenship is a reflection of your deep connection to the heart and soul of this nation. It's a privilege that carries the weight of responsibility and the joy of belonging. As you embark on this journey, remember that you are now part of a diverse, vibrant tapestry that is our nation. May you weave your own unique thread, making our collective story even richer and more colorful.
Obtaining citizenship is more than a legal process; it's a heartfelt journey that signifies a deep connection to a new homeland. These wishes reflect the unity, pride, and sense of belonging that citizenship embodies. As we celebrate this remarkable transition, may these messages inspire you, reminding us that citizenship is a vibrant chapter in the story of our lives and the nation we call home. Welcome to the journey of citizenship – may it be as extraordinary as the nation itself.