A baby is the most precious gift for all parents. With the arrival of a newborn, parents are overcome with joy and happiness seem to have the most valuable gift they could ever have. Nothing in this entire world can exist that can make parents as delightful as having a baby. So, you must convey your wishes of congratulations to all of the parents who are your family and near and dear ones when they give birth to a little baby with a newborn card.
Welcoming a baby into the world is an enthusiastic moment and experience, and there's no better way to congratulate the new parents than with a thoughtful congratulation message! It's significant to come up with the perfect phrases to write inside your card, so we've put together a collection of meaningful ideas and quotes to include for different scenarios, plus printable ones to make it easier. You should write messages in the cards to congratulate the parents and convey good wishes to the newborn baby for her/his upcoming bright future.
A new baby is a divine bundle of happiness. Whether you are a friend, relative, colleague, neighbor, or professional acquaintance, you may be called upon to welcome and celebrate a newborn baby. With that in mind, Here is the list of some of the most touching and respectable wishes for a new baby boy. On this beautiful occasion, with the new mom and dad how delighted and excited you are and wish them all the strength and joy to welcome parenthood. If you are thinking of how to congratulate the parents on the arrival of their baby, here are such messages and quotes of newborn baby wishes compiled for you to pick from. These adorable newborn baby wishes will help you to convey best wishes to your near and dear newborn babies.
Congratulation Messages For A New Baby
Welcome to the cute baby to the family. Congratulations to both of you! You both are now entering a new chapter in life. Best of luck to your family.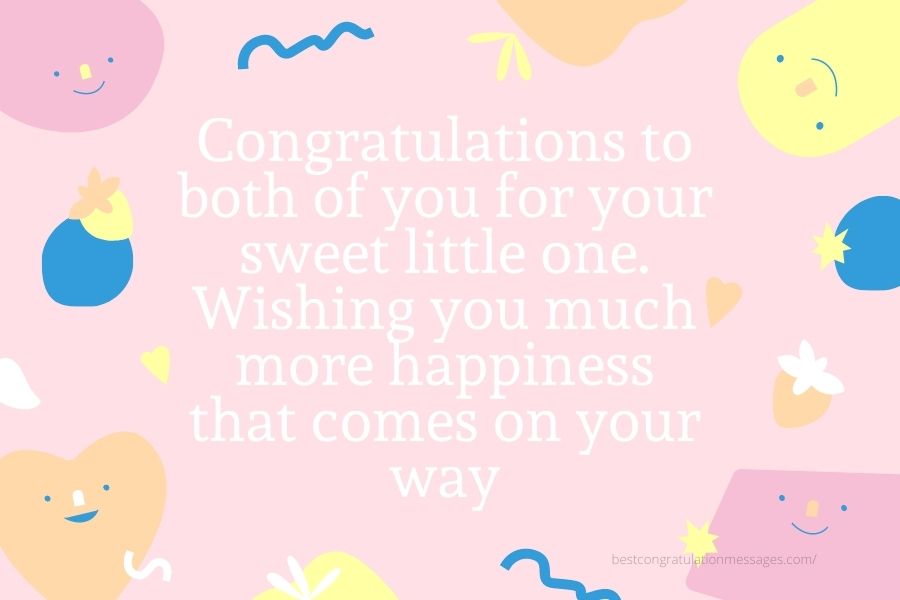 Congratulations to both of you for your sweet little one. Wishing you much more happiness that comes on your way.
Congratulations on your arrival!  At last, all your dreams came true. May the little baby be blessed with happiness, good health, and prosperity throughout his life.
I am very excited to see your baby, and finally, he is here. Congratulations on becoming mom and dad to such a cute little baby.
Many many Congratulations on becoming parents, I send a lot of love and blessings to the cutest baby. I just wait and feel so excited to see the baby. 
Congratulations to the new mom and dad! Congratulations on the arrival of the sweet little baby. Cannot wait to see him. 
I am so excited for both of you and cannot wait to see the little cute baby. Congratulations! Sending you loads of blessings, good wishes, and endless love for your little one.
I just heard the good news, congratulations and wish you good luck to you both. May the Almighty bless your cute baby with joy, and good health.
Finally, your wishes come true and your baby boy is in your hands. I am sure you will be extremely cheerful. Congratulations and hope to see the little one soon.
The most exciting part of becoming mom and dad is being blessed to see a little of yourself in your baby boy every day. Congratulations to both of you!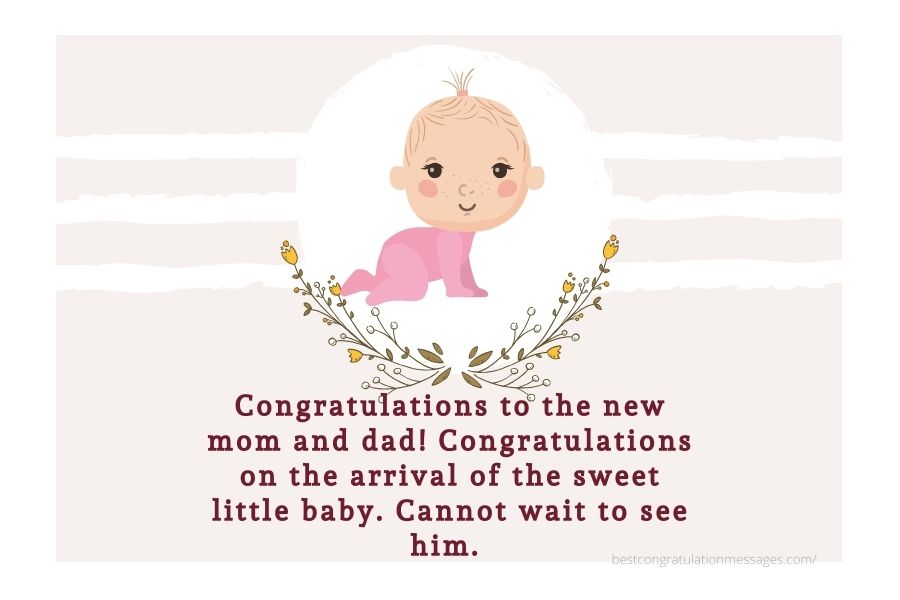 Good wishes to both of you and your family on the birth of your little one. May your baby be blessed with good health, happiness, and love. Congratulations!
I am so happy for you!" Congratulations to new parents! We are really excited that your little one has arrived safe and healthy!"
Congratulations! I: Now, It is time to wake up to your baby's cooing noises and cute smile. Wishing you joy and happiness.
Congratulations! Parenthood is a life-changing period. May the Almighty fill your life with joy and cherish every moment with your little one. Good luck to your family. 
Your baby is really fortunate to have become a part of such an amazing family. I wish for much more happiness and success. Congratulations to both of you!
Long Quotes
I express heartfelt Congratulations Messages Congratulations to both of you for your newborn baby! This new addition will bring you lots of happiness, sweet memories, and fun times. I pray to the Almighty for a healthy and happy journey ahead of your family.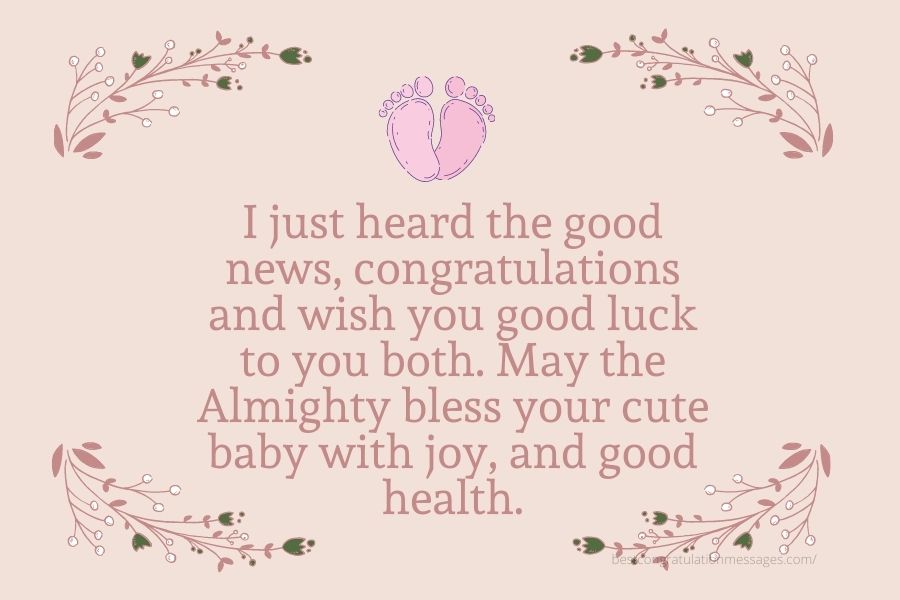 Congratulations to the new Mom and Dad!  As you enter parenthood together, you will become more mature and wiser, while finding a new profound love for the amazing baby you have produced. There are no sweeter moments than becoming Mom and Dad.
Many many congratulations and good wishes on your new life. And definitely nothing more precious than a baby's smile.  But I'm sure you will be able to face the negatives, enough to be amazed by the positives of raising a baby. Parenthood is the most priceless moment in life. Just enjoy the time of your child's infancy; it is one of the most precious moments.
Congratulations! There's something about babies that boosts our confidence level, makes us smile, and believes in goodwill to all humans. We are extremely curious to meet your new baby soon. Enjoy your parenthood dear.
May your new bundle of happiness bring joy into your life and fill a void in your heart. Raise your little one with love and care. I am sure you will be the best mom and dad you can possibly be.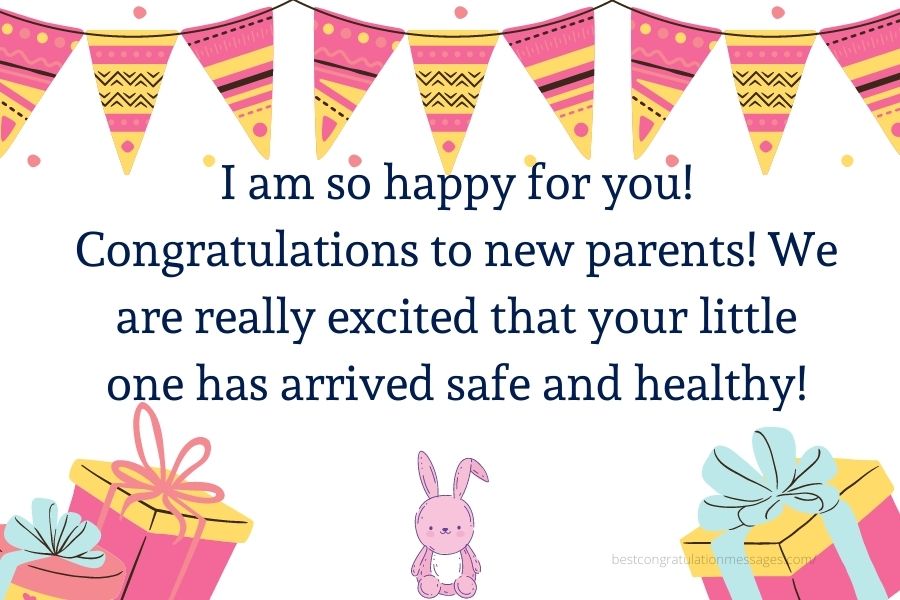 Congratulations to both of you on your most precious moment, on your baby's birth!. Nothing is sweeter than the proud moment of a new baby's birth. In this world then the smell of baby's breath, gentle kisses, and happy coos. You have been twice blessed with your newborn baby. It's going to be a double dose of laughter, fun, love, and dirty diapers. Enjoy the priceless moment!
A miracle has blessed your home. Congratulations to both of you for the little one!. Babies are really a blessing, and you have received one. May the Almighty keep His grace on the newborn baby and on your entire family! I wish to congratulate you and your family well as you embrace this beautiful parenting journey.
Congratulations! Such a proud and precious moment for both of you. Just enjoy and experience your relationship as well. A baby is always a blessing in any relationship. Praying for joy, peace, and some quiet nights for your family.
Congratulations! The birth of a little one brings immense hope for the future. May your family enjoy enduring happiness as you enter into parenthood. As you give birth to your new baby, it is my wish and hopes that all of the obstacles of the world will disappear every time he smiles at you. Enjoy the moment!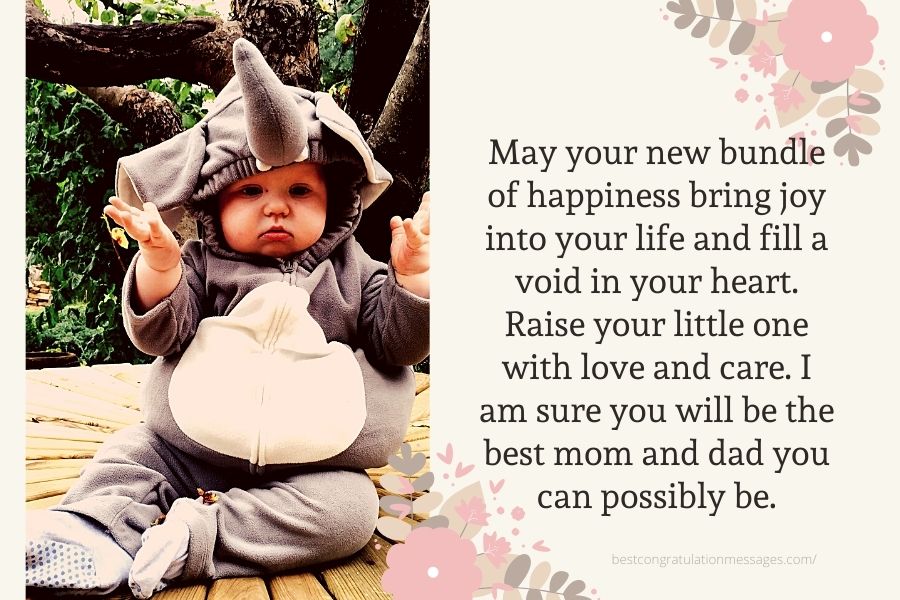 Congratulations! Good luck and best wishes on this new journey. We're really excited for you and truly happy that your new baby arrived healthy and safe. One of life's greatest treasures in life is experiencing the birth of a child and watching him grow. Sending heartiest prayers to the Almighty to make the life of this baby full of color and joy.