Sending congratulatory messages, heartfelt wishes cards, and writing warmly cards can be the perfect way to congratulate someone for something great. Your congratulatory words and best words can melt their heart if you use them properly. Words of congratulations and appreciation may boost the confidence level of people who have done great in their job, achieved something in life, or are promoted to a new position.
 Congratulations messages for a new job or promotion, wedding or engagement,  for graduation or retirement – you need to find congratulatory wordings for one and all. Send the perfect congrats SMS, quotes, mail, or card to your family members, friends, or colleagues and celebrate their success. An accomplishment reflects hard work and potential.  No matter whatever that accomplishment may be, whether personal or professional, the winner deserves words of appreciation or praise. So you needn't delay in making someone's day and send congratulatory messages for achievement right away. 
So if someone you know has achieved a new job, started their own business, or got a promotion at work, then sending congratulatory messages for their achievement is a must. Here you can find some congratulatory messages for day-to-day life which are worth a celebration. Send your warm wishes and greetings to cheer your near and dear ones with perfect congratulatory messages for their great achievements. Find the appropriate message and send it to your near and dear ones for their great achievement to encourage them to do their best.
Congratulation Messages For Achievement
I am extremely delighted with your success. Keep Shining always! Congratulations dear.
You did such a great job at such a young age. My prayers are always with you. Congratulations dear for your great achievement!
You've done such an incredible job, we are all so proud of your great deed. Congratulations to you dear.
Great work! Your hard work,  strong willpower, and self-belief made you successful. Many many congratulations to you!
Congratulations to you for your great endeavor! So envious of your success. And so cheerful for your great achievement dear.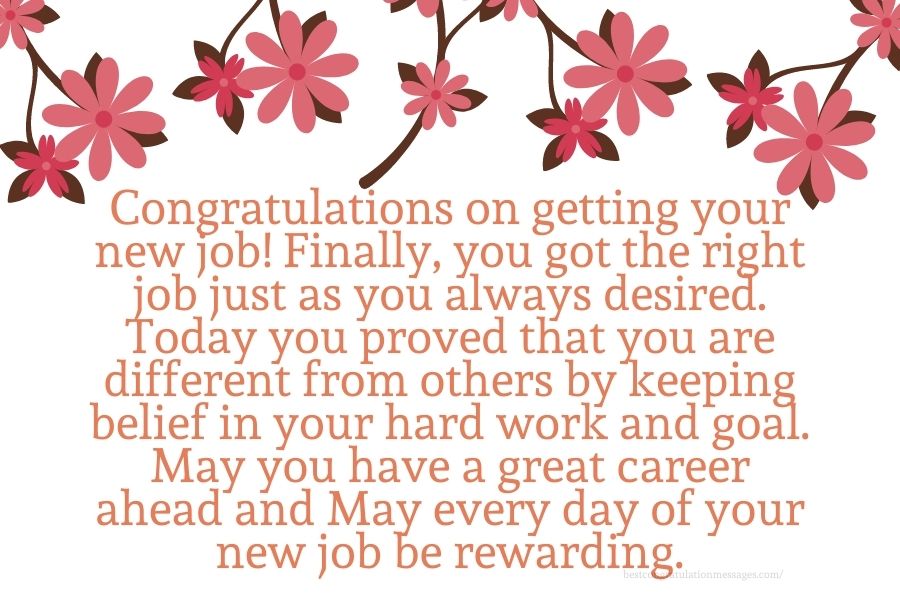 Congratulations to you for achieving your goals! Keep Trying and keep achieving.
Congratulations on your great achievement! You've got the result of your hard work and dedication. Keep it up!
Congratulations on your success. Your strong determination and willpower have made your dreams come true.
You did a great job! Many many congratulations dear! Life doesn't always just throw the things to you that you wish the most. You need to earn them with strong determination and continuous efforts.
Congratulations to you!  You did amazing things! Your dream to reach the top has become successful because of your enthusiasm and hard work. May the Almighty bless you with many more achievements like this. 
I wish the heartiest congratulations to you! I have huge respect for you for working so hard and enthusiastically to achieve your goals. I wish you all the very best and success in your future accomplishment as well. You really deserve the recognition. Always do your best.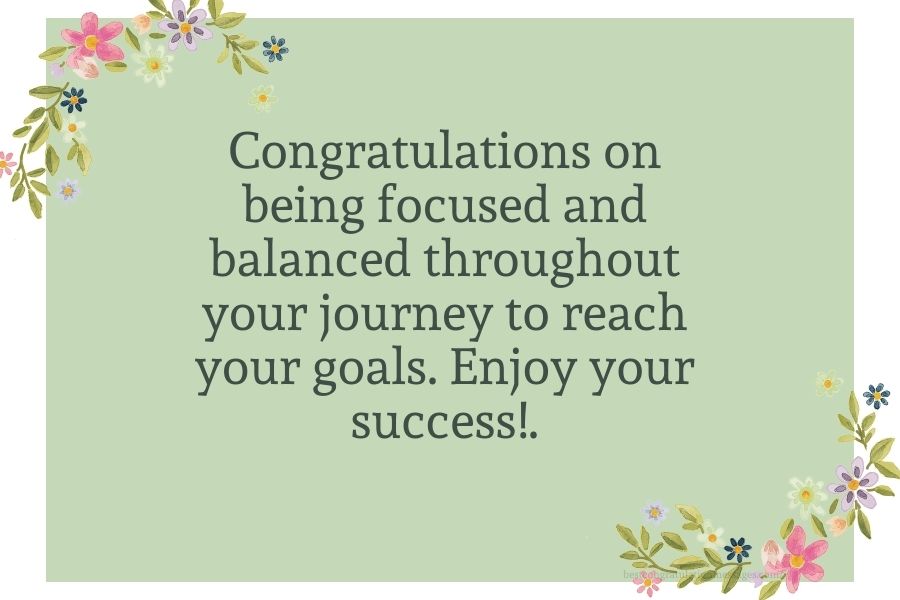 Congratulations!  You have earned so much respect in our hearts by doing such great work. Achieve many beautiful things in your life.
A sincere and hard-working person like you will be a winner all the way. Congratulations to you dear!
You did hard work and gave a lot of effort to achieve your goals. Today I am very proud of you. Many many congratulations to you.
Congratulations on being focused and balanced throughout your journey to reach your goals. Enjoy your success!.
Long Quotes
Congratulations! I am very excited to hear you have scored well and ranked so well in the exam. All your hard work and strong determination have proved that you are the best and nothing will be impossible for you. We are really proud of you. Well done!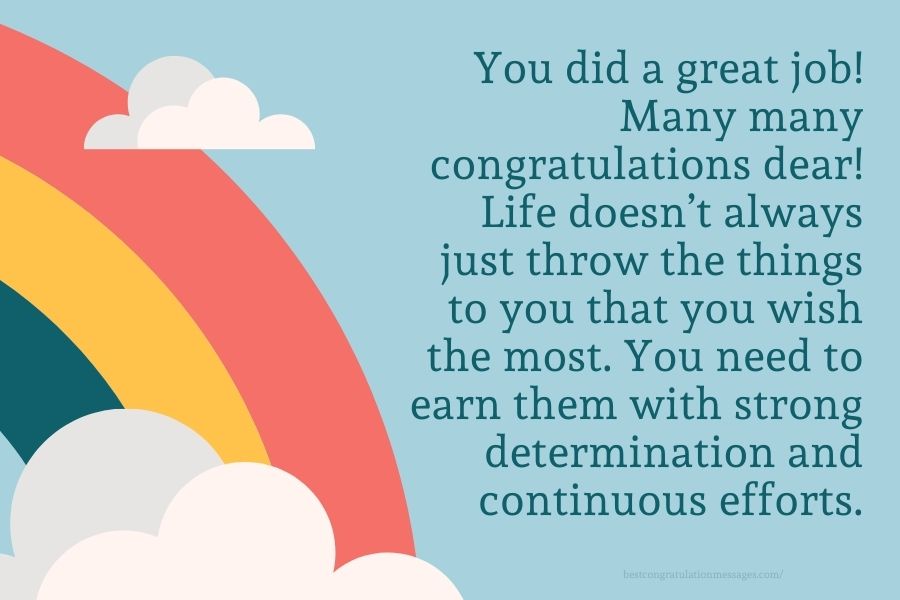 Congratulations on getting your new job! Finally, you got the right job just as you always desired. Today you proved that you are different from others by keeping belief in your hard work and goal.  May you have a great career ahead and May every day of your new job be rewarding.
Congratulations dear! I just found out that you have ranked very well in the Administrative exam. I had the belief in you that I always knew you had the potential and skill to reach your goal. I feel really proud of you for your great success. Now you proved to all aspirants that with strong determination and willpower, nothing is impossible for us. You are extraordinary and an inspiration for all of us.
Congratulations dear.! Your hard work has paid off. I wish you success in all that you try to do anything you desire. You are one courageous and deserve personality. Best wishes always. Always do everything by being fearless.
To accomplish great things one not only dreams but also acts well and makes a proper plan to achieve anything in life. I express my heartiest congratulations on your achievement today! You are really a deserving person to get this recognition! you're the most talented and skilled person I have ever known. Congratulations! 
You worked hard all year long by giving a lot of effort and time. We have successfully completed the project under your guidance. May this promotion lead you to greater leadership roles. You are the role model for every employee that works here.  Congratulations on this remarkable victory! 
Congratulations on your great accomplishment! You have achieved the things that most people can only dream of. You are really a great example for everyone around you. I hope you enjoy it to the fullest and keep working to do the many best things in your life. You have really worked hard to reach your goal. Keep up the hard work and motivation. I wish you lifetime success.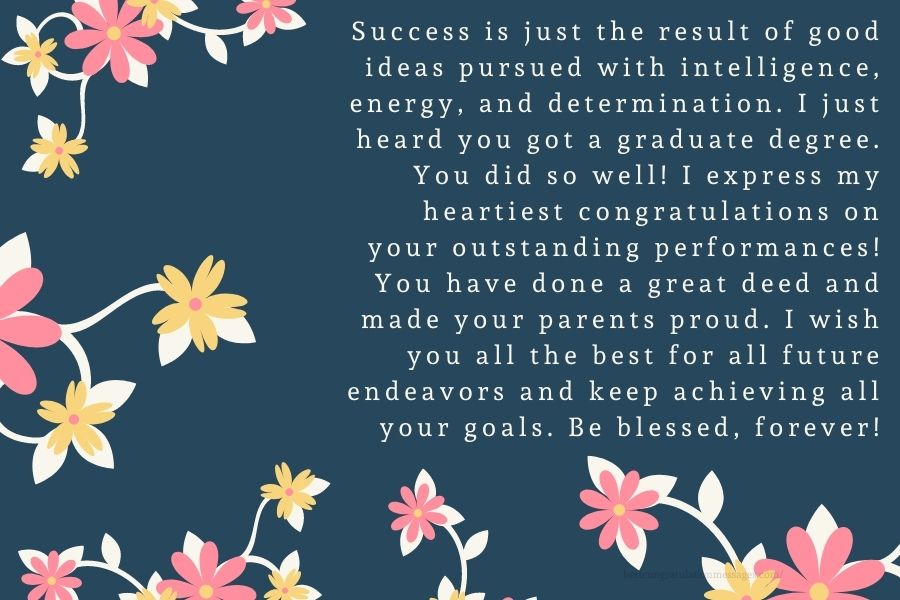 Congratulations! Many people dream, but only a few achieve and prove them different. You achieved your goal today. Many many good wishes on this special achievement!  Keep up the great work and remember to always be a positive thinker and believer. Your ability and your talent to work hard will get you anywhere you want to see yourself in life. Always keep trying and keep achieving!
Your strong willpower, passion, dedication, and perseverance have helped you to achieve the best business person award of the year. You really deserve it. Your enthusiasm and your ability to work hard have made you able to reach where you want to see yourself in life. It's just the beginning! I pray on this special day that you always continue to accomplish big things in life. You're doing such an amazing job on your way to becoming a legend. Keep it up dear!
Success is just the result of good ideas pursued with intelligence, energy, and determination. I just heard you got a graduate degree. You did so well!  I express my heartiest congratulations on your outstanding performances! You have done a great deed and made your parents proud. I wish you all the best for all future endeavors and keep achieving all your goals. Be blessed, forever!