In every family, having a new baby is always a happy occasion to be celebrated. Welcoming a new baby girl to your family or of your friends puts you in nothing but boundless joy! When you receive the good news of your near and dear ones birthing a baby girl it is your foremost duty to send some congratulation wishes for the baby girl and welcome her into the world! Don't forget to congratulate them with your warm wishes and show your love and affection for their little princess! Send some positive vibes appreciate the baby girl's arrival and show them how genuinely happy you are.
 At this time, cheering and warm words like for the new baby girl will add new joys! If you are having trouble with how to congratulate someone on birthing a new baby girl here are some messages that will help you. Use these amazing congratulatory quotes/messages to wish the happy parents of the new baby girl and let them know that you not only wish them well but are also excited to share the joyous occasion with them.
Congratulation Messages For Baby Girl
Congratulations! May the Almighty grace your adorable little angel with immense love, care, and kindness. I became extremely happy to know It's a little princess!
I send my warm congratulations to you on the safe arrival of your sweet angel into this world. May God always keep his blessings on you and your little princess.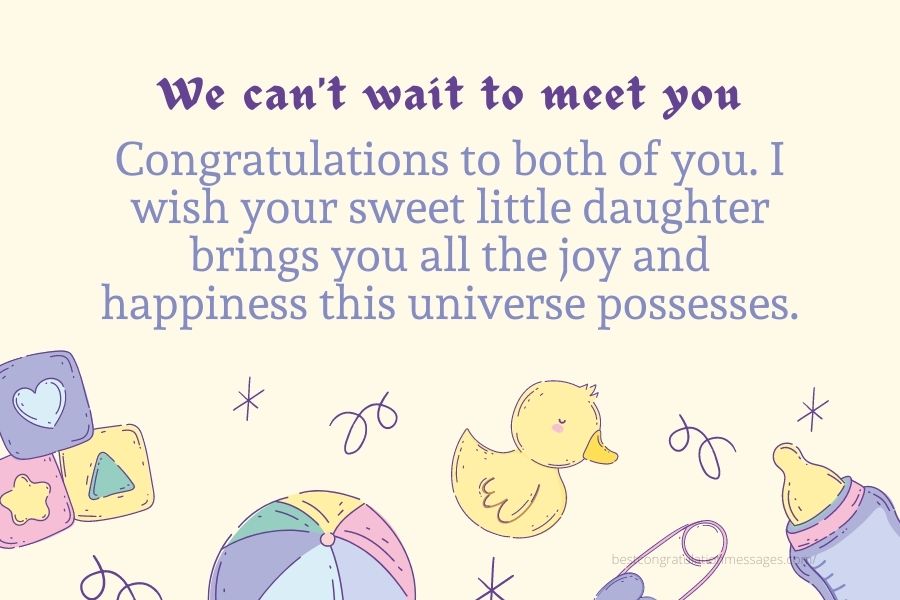 Congratulations to both of you. I wish your sweet little daughter brings you all the joy and happiness this universe possesses.
Congratulations to both of you on your baby girl's safe arrival into this beautiful world. May The Almighty shower his happiness with its heavenly arms around your lovely family.
I'm so delighted God has blessed you with the most beautiful baby girl in the world. Many many congrats to you, my dear. May the birth of your little Angel bring oceans of prosperity and happiness into your life.
I'm so excited to join you in welcoming your princess. I can't wait to shower her with all my affection and watch her grow into the amazing person she has been destined to become. Congratulations.
How joyful it is to see you begin the greatest and most beautiful adventure of your lives. A big congratulations to you and your beautiful family.
Congratulations on your little miracle. I pray that she'll bring into your life the best kind of joy and happiness in the universe.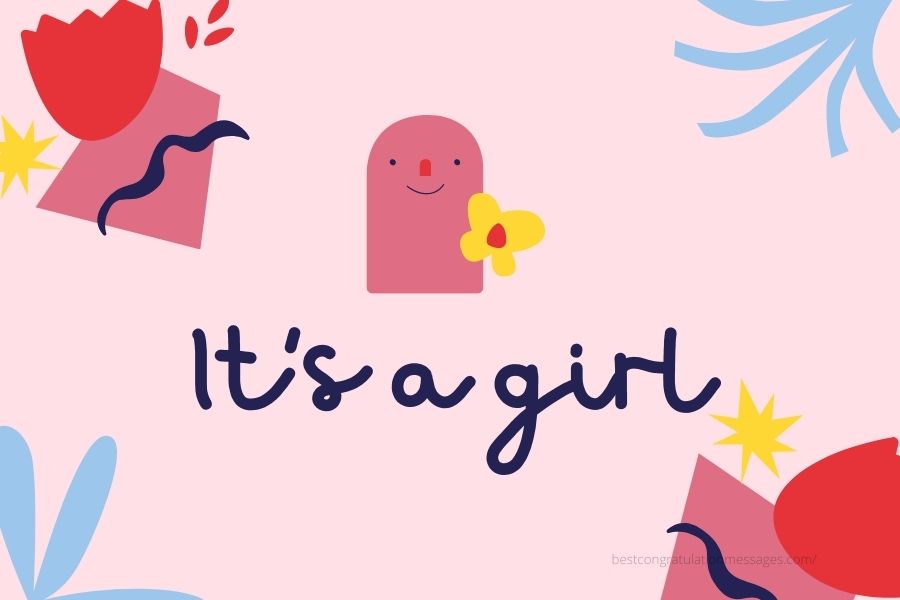 The Almighty has been abundantly blessed today because you have brought into it one of God's most valuable little angels. May this little girl enrich your heart with love and happiness. Congrats!
I am extremely happy that God blesses you worthy to be the father and mother of one of His most beautiful angels. Congrats.
I wish to send my best wishes and to congratulate you on the birth of your sweet daughter. May your newborn baby girl blossom beautifully like a flower and light up your world. Congratulations.
Cheers to the new parents! It's my prayer that your sweet baby girl will always be blessed with good health and happiness to you and the world at large. Congratulations!
Congratulations to the proud new parents. May your new baby girl make everything in your life beautiful.
A big congratulations to you for entering into the world of parenthood! May the life of your beautiful baby girl be blessed profusely with great good health, joy, and remarkable achievements.
The birth of your newborn baby girl is such wonderful news. May all the happiness in this world settle in your home forever. Congratulations for giving this world such a sweet princess.
Long messages For Baby Girl
I am extremely excited to congratulate you on the birth of your little angel. I can't wait to meet her soon. May this joy always remains present in your family. I send my best wishes and massive congratulations to you on the arrival of your cute, precious baby girl. Enjoy all the happiness and joy that your new baby girl brings with her.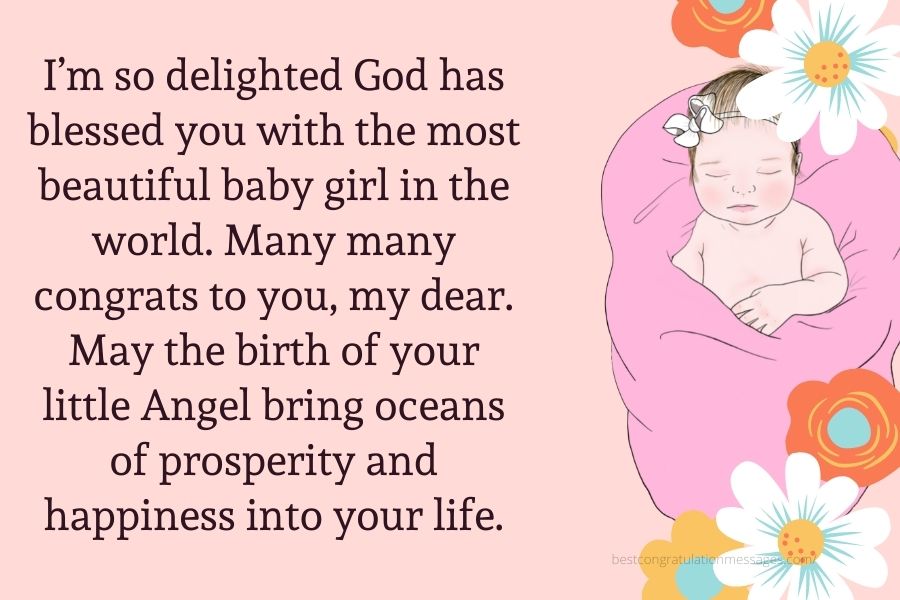 Congratulations! Thank you for bringing such a sweet princess into this world. May this feeling of absolute bliss linger in your home forever! I am extremely delighted because of your newest arrival! May your little angel make your home a place of great love, delight, and wonder. I am very happy for you, May heaven bestows loads of blessings on the baby girl and the entire family. Parenthood is known as one of life's most amazing experiences. I hope you always enjoy every exciting moment of this beautiful adventure.
I am so thankful to God for allowing the safe and sound arrival of your new baby girl. May this joy governs your home today and forever. Congrats! She's an incredible and sweet girl! Congratulations to the most beautiful couple I know on the safe arrival of their new bundle of joy! God bless you.
Such beautiful news! Congratulations to both of you! May God bless your parenting to be more magical and fun than you ever thought. You both are very lucky to have a girl child. May joyfulness and happiness not only today but forever.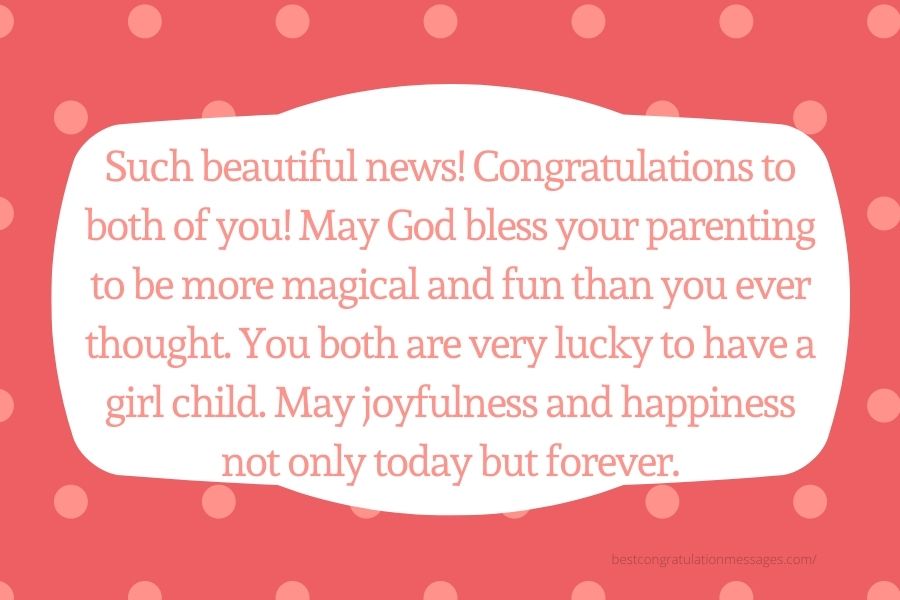 A baby girl! How wonderful! Now your life is going to shine brighter and more beautiful. Sending my immense love and best wishes for the new angel that has joined your beautiful family. There's nothing more precious in the world that completes a human more than becoming a parent. Congratulations!
True happiness is going to be a permanent member of your family now that you've become the parent of the most adorable newborn baby girl on the planet. After nine months of waiting eagerly, your baby girl has finally made her entry into the world. What a beautiful day today is! May God's grace and blessings always be with your sweet little angel. Congratulations! 
Sending my heartiest congratulations to a beautiful couple. May the birth of your new baby girl make your lives bountiful with everything that is blissful and beautiful. May God bless your new baby girl with good health and heavenly joy.
I send my best wishes for your parenthood! May the little girl fill your heart with joy and lots of little smiles! I extend my heartfelt congratulations for being a parent of an amazing baby girl. Your new baby girl is a grace of the Almighty to you and your family. Be careful about the health of the newborn baby girl. 
Congratulations on your incredible blessing from God! I am really very excited to meet this beautiful angel of our family who brought us pure joy in life! Becoming parents is a very precious thing! Best of luck on your new journey! Now take care of the baby bear and usher her with love and care!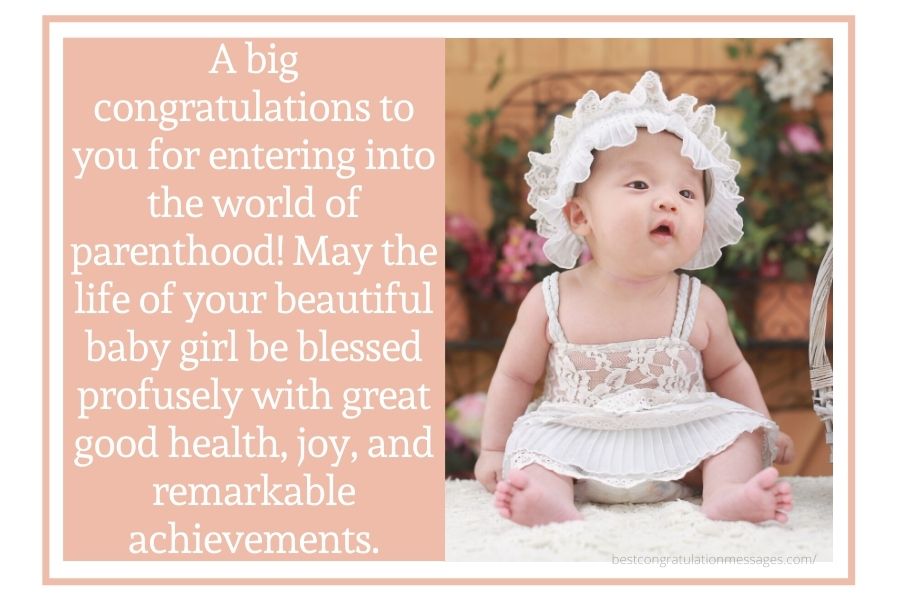 Many many congratulations to both of you! I just got surprised and extremely happy to hear about the newborn baby girl. Having a baby's sweet and cute face close to your own is great medicine for a sad soul, the smile of a baby heals everyone. Babies are really a blessing, the buds that are ready to bloom with lights of affection and love. Having a baby girl is an incredible thing in life.