The engagement of a couple is a very exciting event, not only for the couple but also for the whole family and relatives around them. You might find yourself worrying about the gift when a dear one announces their engagement. But It can be a better way to express your support and excitement to the couple by sending a few heartfelt engagement wishes.
Here you'll find the best complimentary words of best wishes for engagement. Along with it, send your prayers and blessings for their happy conjugal life! If both of the couples are very intimate to you, you'll definitely want to get a little more personal and heart-touching words in your engagement message. So read the messages/quotes and find heartfelt congratulatory words to send someone getting engaged.
Congratulation Messages For Engagement
Congratulations to you on finding somebody beautiful to spend the rest of your life with. Take the responsibility sincerely. My best wishes are with you.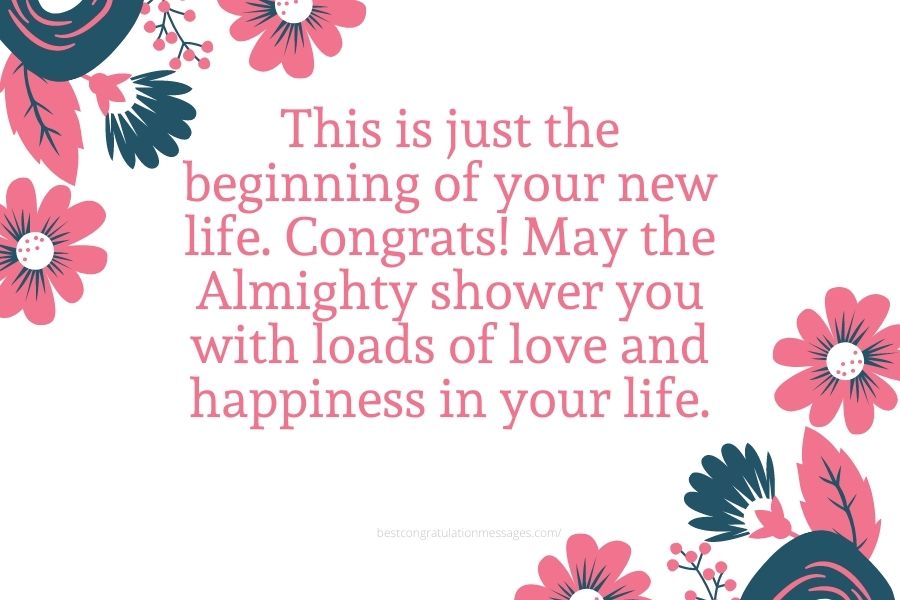 Today is such a wonderful day for both of you. Make a promise to be honest and loyal to each other. Congratulations to you both!
Congratulations on this special time in your lives! This is BIG news for me! I'm very excited for you both! I hope your future together is filled with boundless happiness, love, and cheerfulness.
This is just the beginning of your new life. Congrats! May the Almighty shower you with loads of love and happiness in your life.
Congratulations to the future bride and groom. I'm so delighted you've found your true and forever love.
Sending best wishes on your engagement! May the boundless love for each other keep growing with each passing day.
Seeing you take the first step towards starting your new life together, I feel really excited. Congratulations to both of you!
By bringing you two together, The Almighty proved that he's the best decision-maker. Wish you everlasting happiness and love on your special day. Happy engagement.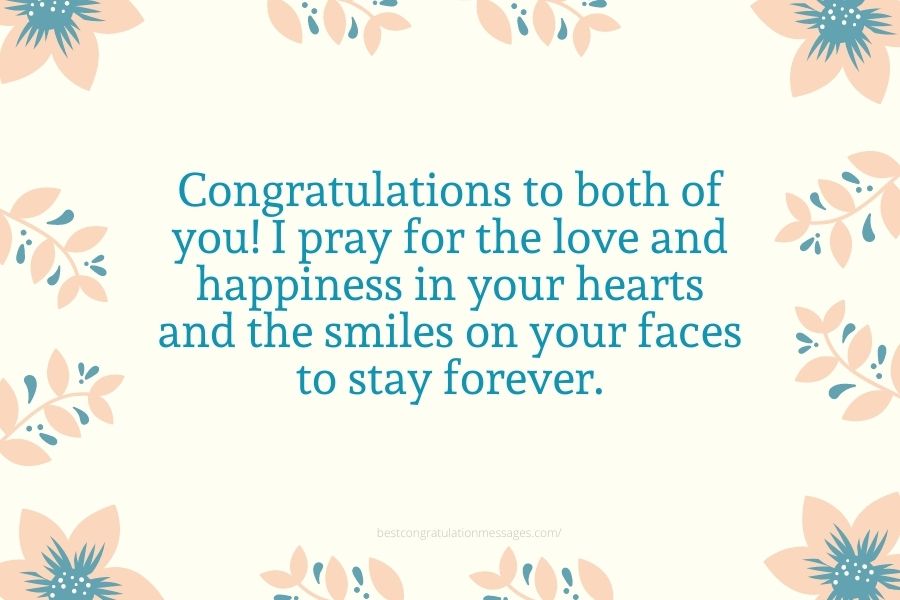 Congratulations to both of you! I pray for the love and happiness in your hearts and the smiles on your faces to stay forever.
Many happy returns from your engagement. Seeing the dream of your togetherness come true is exciting my heart by thinking about the beautiful journey of love.
Today your soul is getting bonded forever;  promise each other to support you during hard times and be each other's strength forever.
I send my best wishes for you and your new life that is just about to start. Your love and happiness matter the most in the end. Congratulations on this special day!
May God always keep showering you with his blessings in the coming years. May your new beginning start with being filled with happiness and love!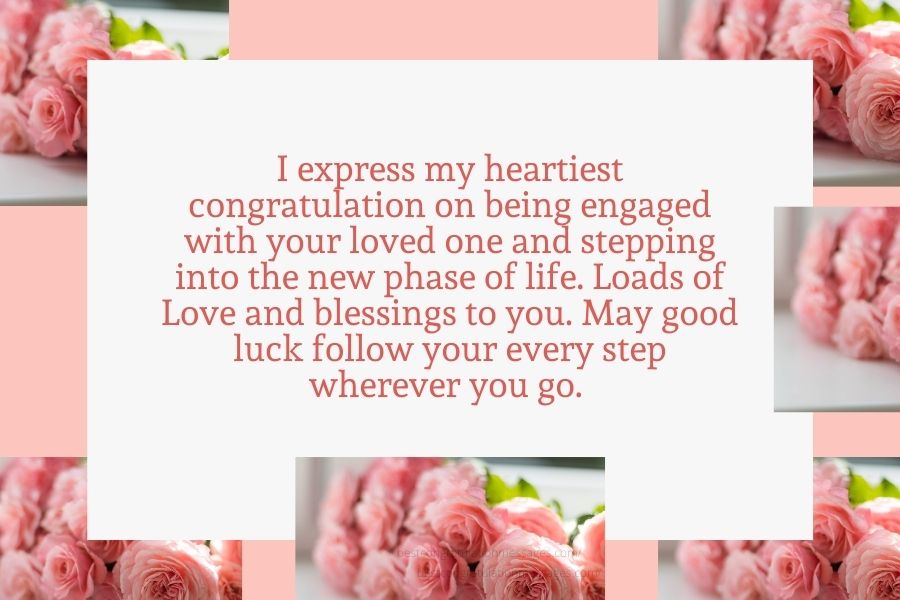 May your new life be filled with the fragrance of new love. Congratulations to both of you. You made us really happy!
I express my heartiest congratulation on being engaged with your loved one and stepping into the new phase of life. Loads of Love and blessings to you. May good luck follow your every step wherever you go.
Long Messages
Congratulations! May this spiritual bonding of two hearts bring endless happiness to your life. Make a vow of being together both during good and odd times. My blessings are with you. I am excited to see you two become a family! May God shower you with his divine blessings and love. Wishing you the best of things as you are going to start a new life together.
Congratulations! I wish to God you always find peace in each other. My prayers and blessings are with you. May the bond of love that starts today lasts forever, and the love can conquer all odds of your marriage life. A lot of blessing and love I have to give you on this beautiful day.
Many many congratulations to both of you! Wish you all the happiness around as today is the most special day for you both. You two are perfect to each other and what soul-mates look like. I wish you a never-ending bond that is filled with happiness and love.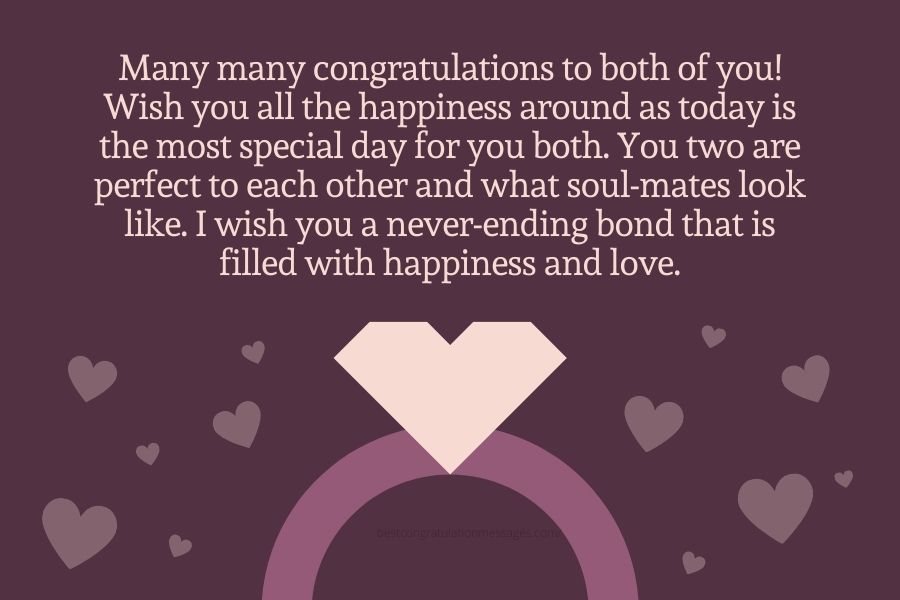 On this day of your engagement, accept each other's perfection and flaws. Wishing you the best of luck. I wish you both your engagement and love and wish you cheerful and peaceful times ahead in life. This is such a joyful announcement!  May the two of you be blessed as you start the journey that will lead to a lifetime together.
I wish you a lifetime of joy and cheerfulness that your heart can hold and may this be the wonderful beginning of a long life together. A lot of best wishes on your engagement! I'm so delighted that you have found love in each other. Best wishes for engagement with the wedding plans and have a sweet life together.
Congratulations on your engagement! I wish for you that this wonderful occasion adds a new meaning to both of your lives. May the Almighty grace by unbounded happiness and romance!  Wishing that this would be just the beginning of a long and wonderful journey. May your togetherness bring you more happiness than you can imagine. Good luck!
Congratulations to an amazing couple. What big news! God grace you both on your engagement. Wishing both of you a world of blissfulness and happiness on this beautiful day. I am so delighted for you! Just eagerly waiting for the wedding day to enjoy more!
Congratulations to the sweet couple! May your life be a happy and bright one. I pray to God for a wonderful and peaceful time ahead in life. May your bond and love grow for each other always! I wish you immense happiness and everlasting love and success of your dreams.! I pray to God that the coming years be filled with boundless joy! I again wish you both a beautiful future ahead.
Congratulations to both! You both are so lucky and today is the day to promise to put every effort to support each other in every good and bad situation. Happy engagement to you! I can't wait to see your wedding. Some bonds are made in heaven to stay together forever. Have a wonderful and sweet journey towards eternity holding each other's hands. So very delighted to know you have found true love. To a wonderful and cute couple, you may have a blessed and cheerful life ahead of you dear. Be happy always!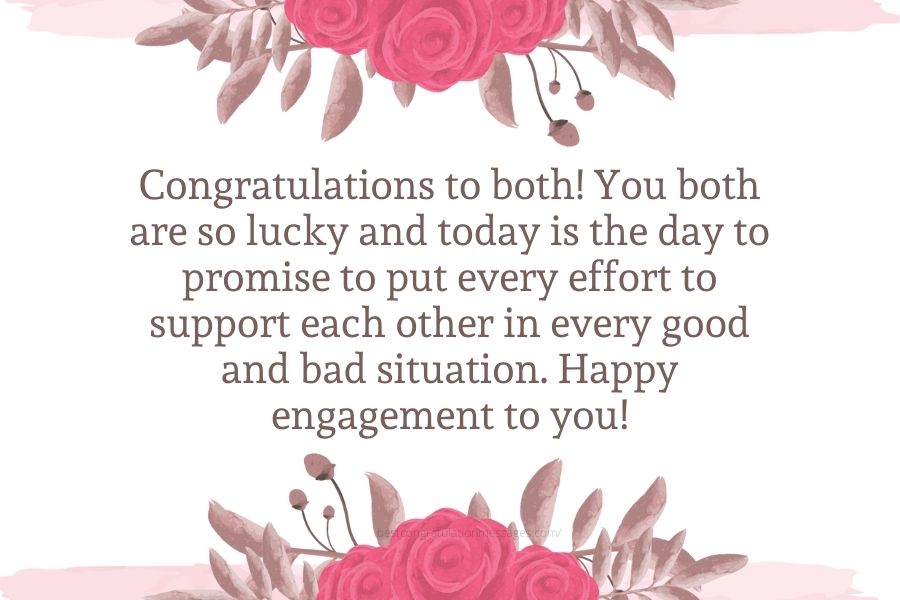 Many many congratulations to both of you! Happy engagement Day! You both are not only getting engaged, but you will be binding your soul together for love to reach the highest height in heaven. You both shall attach an invincible connection between your hearts on this day. Your boundless love is going to reach its destination! May God shower you boundless joy and love!