Do you think you have to send a congratulation message to a high school graduate? It's very important to show your love and affection by wishing them continued success in the future. It is an important day for the graduate When your sister, brother, or friend graduates, you need to congratulate them by sending a beautiful message that inspires them for their future life. Your sweet gesture shows you love and care for them, and this automatically makes their day better. You have to show them how proud you are of their success.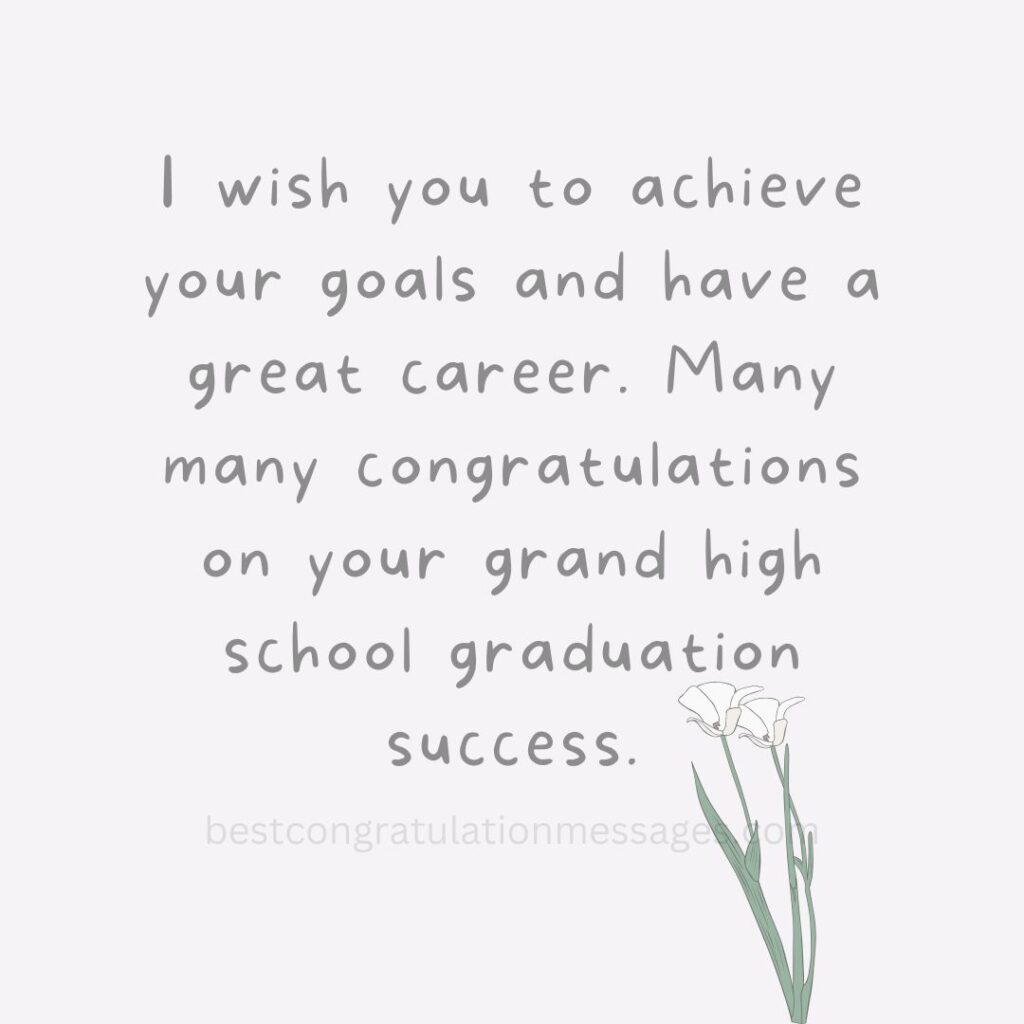 Your heart-touching words will motivate the graduate to do even better in the future. Make them feel special and make their day more significant through your wishes and blessings for them. Here are a collection of messages and wishes that are perfect for anyone who has just graduated from high school. Get your wishes ideas from this write-up and write different messages to suit you.
Congratulation messages for high school graduate
 I wish you to achieve your goals and have a great career. Many many congratulations on your grand high school graduation success.
Congratulations on completing your high school graduation. ! I wish you good fortune and hope you maintain the same spirit all throughout your educational career for better opportunities for a job in life.
We wish you every happiness and success always. With all our love! Dear, with your grand high school graduation success, I wish heartfelt congratulations on your grand success.
 Congratulations dear! My dear, I can't express my happiness in the words that you have made me today. I wish you nothing but the best. You have made us proud.
You did hard work, and that's why you have finally succeeded. This success will inspire you in the next step of your life. I send my immense love and best wishes to you.
Dear, I am so glad about completing your high school graduation. You have accomplished your goal and make your dream come true. I send my boundless love and best wishes.
I feel so delighted for you on completing your high school graduation and hope for the best for your career. Finally, your dream came true. Always remember one thing that never gives up your hopes and keep this spirit forever.
Congratulations! Completing your high school education is really an achievement and all your hard work and effort finally paid off.  I wish you all the best for your college days.
I am so proud of you. Never stop this patience and hard work for your study. May you accomplish many great things in the future.
Finally, you have completed high school graduation. All your hard work and continuous efforts have paid off. You're a graduate now. I wish you amazing success for the future dear!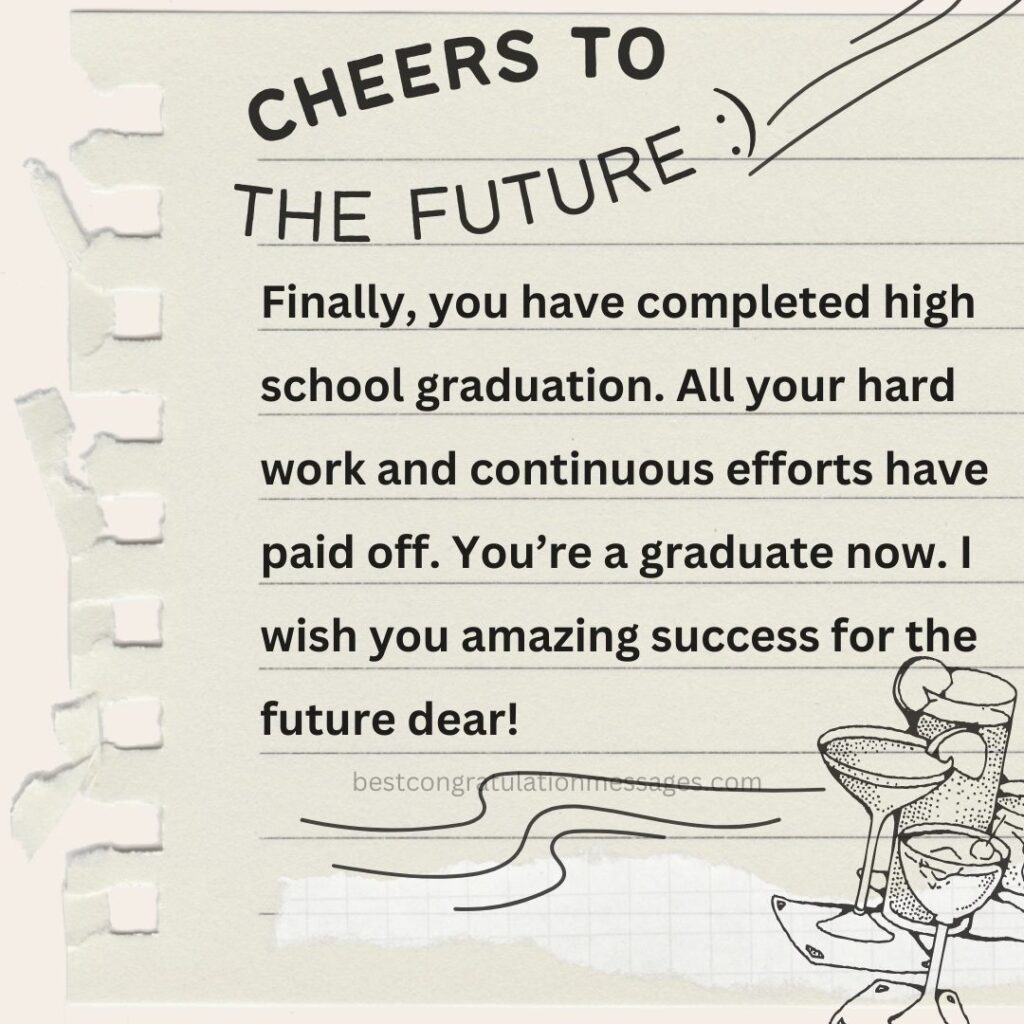 Your school life may be over but life's lessons are yet to be learned. Keep an open mind to know more. Best of luck in the future.
Congratulation on completing your high school graduation. I wish you bring more success. It is the fruit of your continuous effort. Keep working hard.
I wish you many great things in the future to come. Congratulations graduate. Always keep patience and do hard work to acheive great things in life. Keep achieving.
Best wishes to you for your big achievement. I wish your success will continue. Congratulations on the first chapter of your success story. Keep doing brighter things in the future.
Congratulations high school graduate! I am so proud of your biggest achievement! I am sure that you will keep continuing this spirit forever. Good luck with your next goals. Congratulations graduate!
Congratulation Quotes for high school graduate
 Now, you are a high school graduate, I feel so proud of you. Congrats! Enjoy the fruit of your hard labor! It is such a big achievement. Remember that still, you need to continue your journey a long way. Always keep believing that you can accomplish these goals just like your high school graduation. It's only the beginning of the many great things you are going to do. You still have to do a lot of things, and I know you have the potentiality to do everything.
Congratulations! It is only possible with your effort and hard work that you can do this big success. Your school life is over! There is a new beginning, for every ending. I wish you an amazing future ahead. High school life is an end but life does not end there. You need to move on to what the world will give you as your next days.
Congratulations dear! I can't believe you have grown up and today, you have completed graduate from high school. Wow! Enjoy your tremendous success and I will always pray for your best in your college life. I wish the future days will be the best ones. All the best for your future! Happy Graduation.
Your patience and efforts have paid off and you deserve appreciation for it. It begins a whole new chapter in your life. I wish high school graduation will help you to make your dreams come true. You've taken on the most amazing, incredible journey of becoming a high school graduate. Continue to aspire and climbed to achieve the best things. With pride and love, I send you my heartfelt congratulations!
Congratulations! Your future is uncertain, so you have to be daring, creative, and have unique talents to make it a masterpiece. Here I send y best wishes to your impressive student career. Now that you're graduating, you're going to the beginning of a brand new journey. I wish you immense success in the future ahead.
You leave behind your high school days and you never will forget. Best wishes for your success! Wish you many many congratulations that ever show one's curiosity as you have conquered the stage of being a high school student. Sending you lots of best wishes, a career filled with hopes and aspirations. May the future ahead of you be as amazing as you are.
Congratulations.! You worked very hard in high school to get admission into a good college. I send loads of heartiest best wishes and love on your grand high school graduation success and also send good vibes for a better future as you soon will enter college life for further education.
You finally completed your high school graduation and are proud in front of others to show them how fierce you were in rising above the challenges of high school. Take a moment to remind yourself of your achievements and realize all that you've achieved and the footprints that you've laid. Congratulations on your graduation.
I had faith in you that you could achieve your goal. I have witnessed every success of yours, but today is so unique from the rest. As you completed your high school graduation, now you are enough mature.  I wish for even greater success in the future. I can't believe you're so grown up. You have to go a long way to meet future challenges. I send my best wishes for your amazing achievement. Let's celebrate. Congratulations, dear!
Congratulations on your graduation my dear! You completed your graduation today. I feel very proud of your outstanding success. Keep this confidence which will help you to achieve your goal. Never stop believing in yourself. There are many things to do, and I am sure you will succeed in every phase of your life. Education is an important tool It enables you to do amazing things. Keep a good spirit to face every challenge in life. All the best for your future.