Opening a new business is such a bold step because it always requires a lot of effort, hard work, strong determination, courage, etc. So we need to send our encouraging words when we get to know that your near and dear one is opening a new business. Never forget to send a congratulatory message on this great event. The congratulatory message will encourage them to improve their abilities and confidence. Starting a new business is just a bold step and It is such a joyful event for a business person and his dear ones. So it should be celebrated with best wishes, inspiring words, blessings, and appreciation. 
 By sending good luck messages for new business, we can motivate the business person. It isn't an easy task at all to open a new business. It always requires courage, determination, perseverance, a lot of time, and a lot of money. Being an entrepreneur is really challenging, your entrepreneur family members and friends, who have ventured into entrepreneurship, need all the support and encouragement they can get from you. 
To show love and support to new startups or businesses, one of the best ways is to send them best wishes and inspirational messages to motivate and inspire them besides patronizing their products and services. Write the perfect congratulatory wording to your close one who is starting a new business to help and support them. Here, you can get an excellent collection of congratulatory messages for a new business venture.
Congratulation Messages For New Business
Congratulations on your startup! May your new business bring amazing success and fulfill all your dreams. I wish you more power, confidence, and passion to face all challenges that come your way.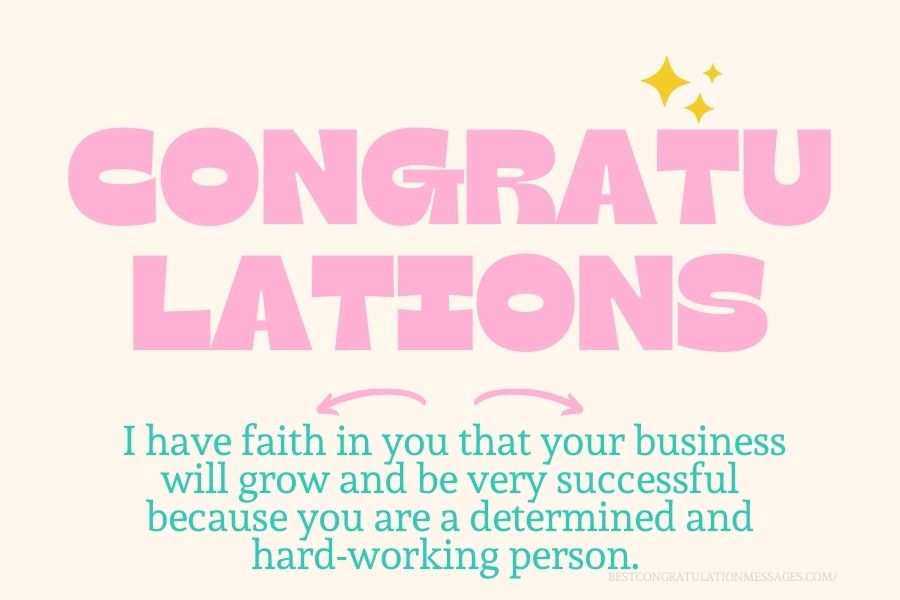 I have faith in you that your business will grow and be very successful because you are a determined and hard-working person. Congratulations on starting your new business! 
I believe that there's nothing on Earth that can hinder the progress and success of this business because I know you and your determination in life. For opening your new business, I wish you congratulations and best wishes!
You have chosen this path because you have believed in yourself to make it successful. Here, I send my heartiest congratulations on the new business. 
Congratulations on starting your new business! Only a few people in this world are able to handle these challenges. By opening your own business, you've proved that you can overcome all situations on this adventure.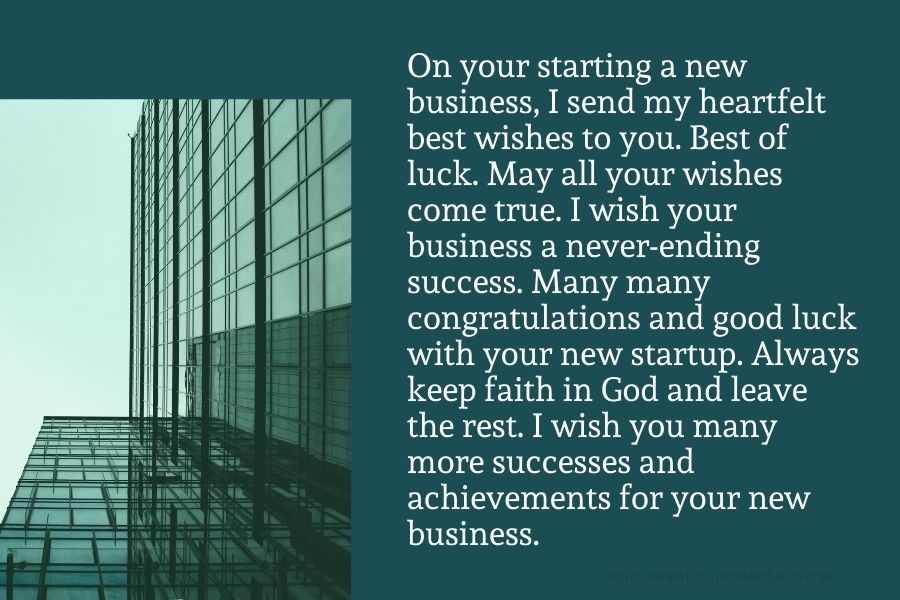 You are such an optimistic person, so you are able to handle all the risks that come on your way to business.  Congratulations on your startup. May this new business bring you immense success and achievement.
You are an amazing person with strong determination and a positive spirit. I believe business is going to be successful and good because you have that spirit.  Congratulations on starting your own business.
I'm so glad to hear you have started a new business. May this business give immense happiness and prosperity beyond your imagination. Congratulations and best wishes. 
Wishing you good luck and pray that the Almighty always bless the business and lead you to amazing success. Congratulations!
You have to start up your business, not everyone has the vision. A lot of courage and passion are required to go where you have determined to go and I believe you will pull it off in the end. Wishing you good luck with your start-up. 
You are a person who has a lot of determination and focus. Being your own boss has a different charm. But you have to take on a lot of responsibilities as well. May the Almighty give you more power.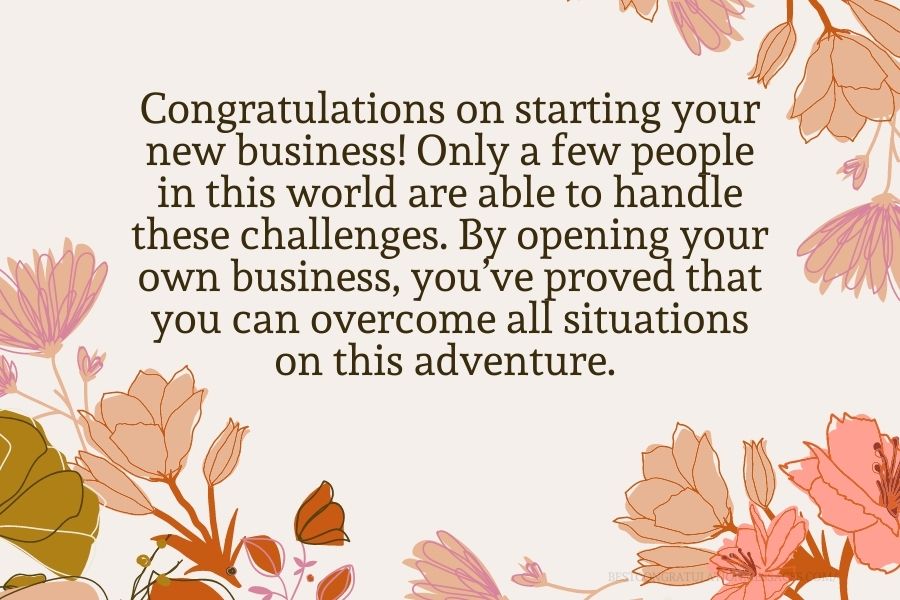 Congratulations on becoming your own boss with your new business. At first, you have to face a rough ride, but I believe that the rewards will be more than adequate. Wishing you all the best.
Congratulations on your new business! You can do this because you have the spirit to make everything possible. Wishing you success and more power.
Congratulations! You've taken such a big step to become an entrepreneur! May God gives you enormous power to find success and fulfillment in your new endeavor. Your passion will get you places. Good luck!
I highly admire the dedication and hard work that you put to start this new business. I have faith in you that you will surely succeed in this. Because you don't lose your focus. Congratulations on your new business!
Congratulation Wishes For New Business
 I express my heartiest congratulations on starting your new business. May the Almighty bless you with a brighter future. All the best for your new business. May this new business bring in lots of happiness, financial security, success, and prosperity. Wishing you all the best. Keep progressing and may your business prosper even more with each passing day.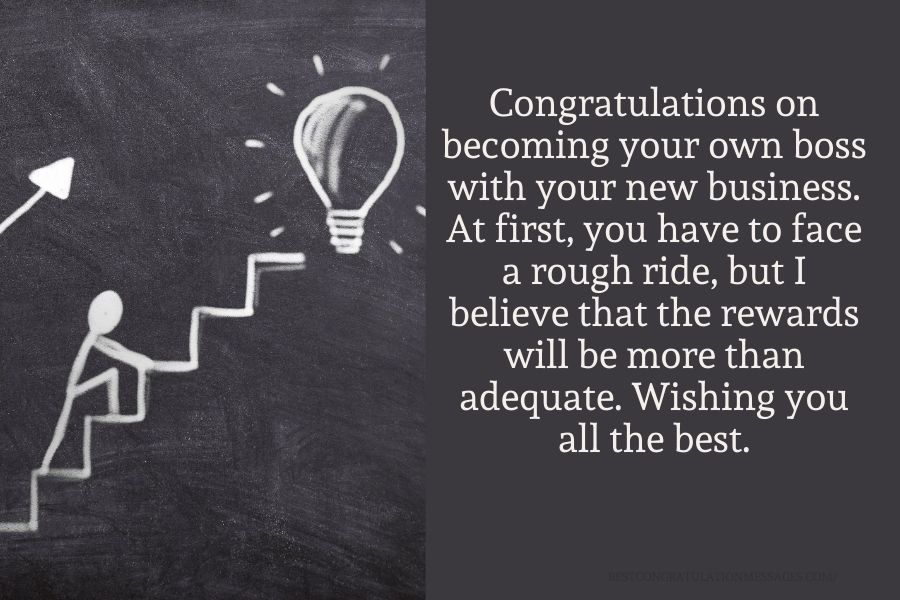 On your starting a new business, I send my heartfelt best wishes to you. Best of luck. May all your wishes come true. I wish your business a never-ending success. Many many congratulations and good luck with your new startup. Always keep faith in God and leave the rest. I wish you many more successes and achievements for your new business.
Congratulations on your new business venture. I wish you the best wishes. May earn both respect and money through your business! On the opening of your business, accept my best wishes and love. May you fulfill all your goals. To see you become your own boss, I feel so happy. I pray to God that this business will bring you amazing success in the coming years. May good fortune always follow when you run your business. 
You have all the potentialities to becomes a great businessman. As you're all set to enter a new world of success, I send my best wishes to you  You can really bring a change in the business practice of today's world because you are so an honest and hardworking person. You are not only just a dreamer but also a believer and a doer, you have proceeded to all of us. I wish you good luck!
I pray that you may overcome all the obstacles which come on this new adventure. As you start a new business, I pray that Good luck is always by your side. In the beginning, you may have to do a lot of hard works but I have all the confidence in you that you can make it to reach the heights of success. I wish you all the best!
As you start your new business just keep in mind that never bother yourself with the failures, just keep reminding yourself that some great days are ahead of you. Good luck with on new venture! May God always keep protected your business from every obstacle and makes the path of your new adventure smooth. May the Almighty keep his blessings on your business more than you expect. Congratulations!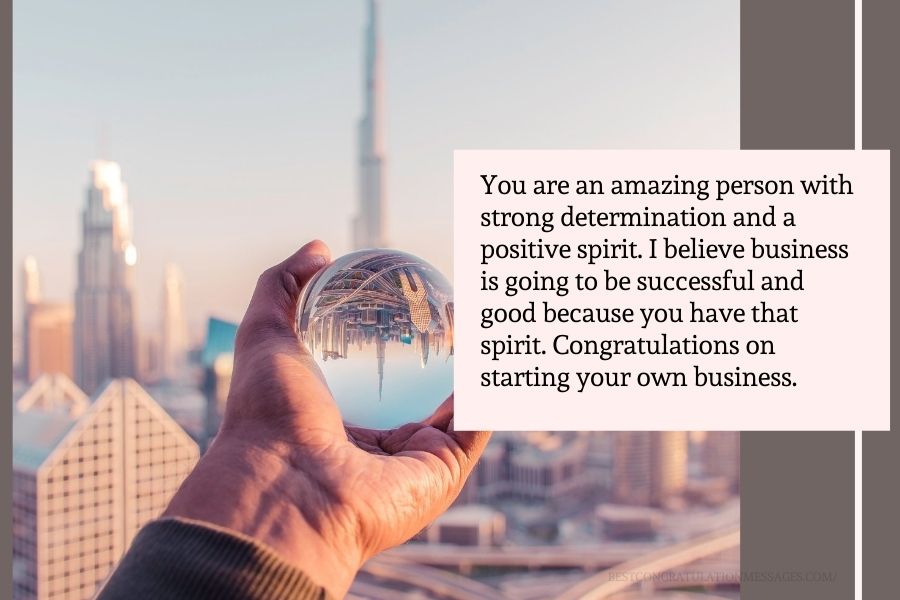 Starting a business is not only about making money but also your solid aim to serve people with their requirements. Your integrity and honesty will surely take you to new heights of success. Always be honest to earn people's respect and do hard work to earn money. These two qualities will take you to the top. May God help you to strengthen your business. Congratulations!
Wish you congratulations on your new startup. Best wishes for your new journey. Innovation and creativity are the most important factors that lead a business to success. I believe these potentialities are within you. Setting a new business requires a lot of sacrifices, hard work, and determination. you'll surely overcome the obstacles and challenges in your way and see success at the end of the day. Good luck with your new startup.