The pregnancy period is the most precious one of every women's life.You should convey beautiful congratulatory messages to an expecting couple. A heat-touching congratulatory text message, email, quotes, the post would also make happy to the pregnant couple.You can set yourself apart from all the others congratulating a pregnant couple with a boring text message containing the usual niceties.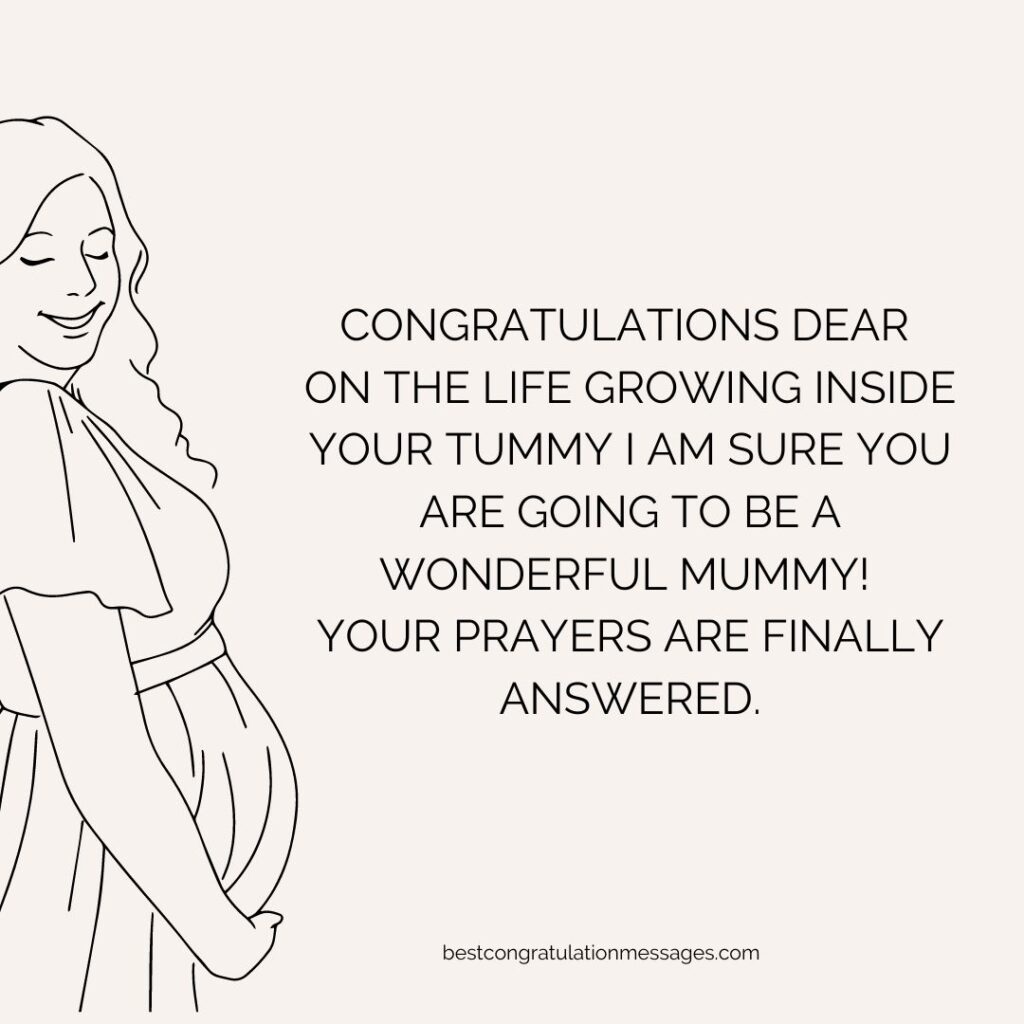 A baby is the most precious thing to a couple, a family, and to the world. If any of your friends, relatives, family members are pregnant then you should appreciate them by congratulating them on the pregnancy period. You can congratulate your friend, wife, sister, and colleague on being pregnant with the sweetest of words and make their great journey to become a parent easier and enjoyable. We hope these pregnancy messages will help you to congratulate your family members, relatives and beloved ones.
Congratulation Quotes for pregnancy
Congratulations dear on the life growing inside your tummy I am sure you are going to be a wonderful mummy! Your prayers are finally answered.
Congratulations on getting pregnant! A baby is a precious one in everyone's life. Now that you are pregnant, Take care of your physical and emotional health dear.
One of the most essential parts of getting married is that you can look forward to having a baby, and one of the best parts of having a baby. Have a happy pregnancy!
By becoming pregnant, you celebrate the your womanhood, and you have the power to make the world go on. Congratulations on your pregnancy!
Congratulations on your pregnancy! Please take care of yourself as you are about to take off on a breathtaking journey over the next nine months of your life.
Congratulations on getting pregnant!  May your new baby bring you immense happiness. After your wedding, this is the next best news you have given me. I feel excited when I heard the news about your pregnancy.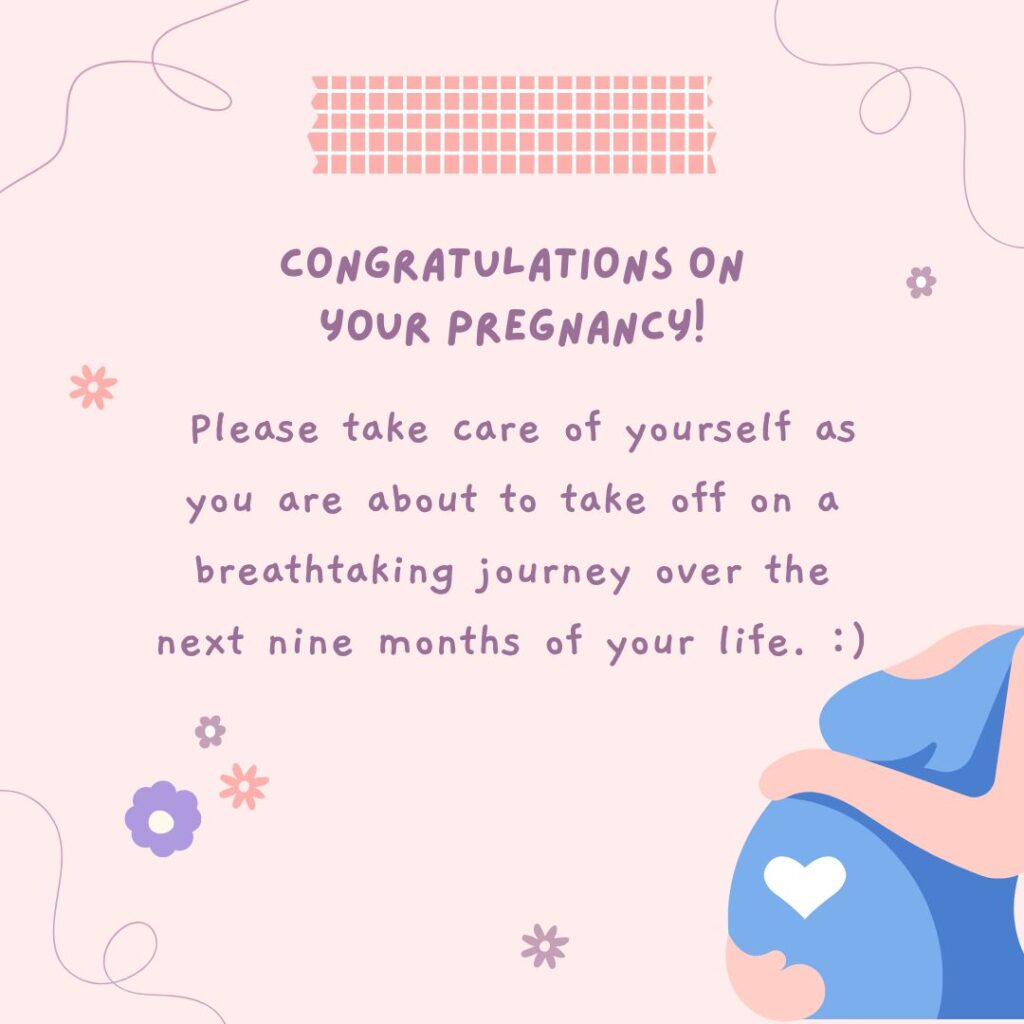 As you have now become pregnant, congratulations on your pregnancy! You are going to play the character og a wonderful mother. Enjoy this valuable moments of life.
The next nine months of your life will be a woories like morning nausea, boredom, anxiety, pain, sleeplessness, and eventual triumph. Congratulations on becoming pregnant!
I wish your pregnancy will bring exciting and joyous moments. Now not just a great wife but you are going to play the best character tha as a mother. Congratulations on your pregnancy!
 Congratulations to the amazing mother-to-be! I am very glad to heard this good news. May God grace you with a lovely and healthy baby.
In the next nine months, you will experience a miracle. Congratulations! Having a baby is really a gift from Almighty; it is one of the best blessings given by the Lord.
These nine months will give you the best feelings in your life. Cheers to the wonderful journey of pregnancy and motherhood that you are about to experience!!
You won't be thinking for one person but for two, for everything thing that you now attempt to do. Congrats on your pregnancy!
Congratulations to the mom-to-be! I'm so excited for you. Enjoy this wonderful adventure in your life. I have faith that you are going to be a loving and wonderful mother to your little one. Just enjoy the journey.
Congratulations on your new little bundle of joy! I am so cheerful to meet your little one when It come out. There's no greater happiness than being a mother. Have a safe pregnancy.
Congratulation messages for pregnancy
May God grace you with a safe and happy pregnancy with a healthy and joyous baby. Plese accept my heartfelt wishes for such an amazing time in your life. I am very delighted to hear this best news. You are going to invite your little one and we wish may this journey be safe and lovely for both of you. Heartiest congratulations for expecting.
Congratulations new mommy-to-be! I wish you good luck as you are carrying a beautiful soul. Your motherhood journey has started and you prayers are finally answered.. We are eagerly waiting to meet your new baby very soon! I express my heartiest congratulation on this miraculous journey of yours. Pregnancy is really a blessing and you are the most blessed soul.
Congratulations as you expect your bundle of happiness! My excitement starts and it's going to get better each day. Life is full of wonderful things and blessings, indeed. Pregnancy will make you see a life in a whole new different way. Because you are going to experience what it feels like to create another life. Expecting a baby is just the beginning of a new journey which is life's most precious moments.
Congratulations dear! It's hard to believe that you are going to have a baby soon! Wow! Now it's time to take rests and relaxes because a baby is on the way soon. In a woman's life to be a mother is a whole new level. Congratulations on taking your first steps towards discovering a new beginning of life. I am eagerly waiting to see your little one.
A child is truly a blessing from God and we are here to support and give love to both of you. Congratulation to the mom-to-be! Take care always! You are going to be one of the best parents in the world. From two, you are becoming three, on hearing this news, we are so happy and cheerful. Have a safe pregnancy, my dear.
Congratulations on your pregnancy! You're going to be a loving and wonderful mother! I wish you best of luck on this beautiful stage, you are a very loving and sweet girl and I know you will be a very good mom. Thank you for bringing this good news to us. I pray for your safe jpureny dear. Take care.
Congratulation for begging a new journey! Your biggest dream finally come true, We ae very happy to hear this great news! You will bring a sweet baby to the world.It is such an awesome momemt for us. You have just entered the motherhood and It is the most beautiful journey. It's a really a greace being a woman because you get to experience the most fortune moment of your life, creating another life!
You are going to strart one of life's best stages and we are extremly happy for you for such a joyous blessing. Happy Pregnancy dear!. The beautiful life is inside you, there is nothing precious and better feelings, Congratulations on your pregnancy! I pray for a safe pregnacy journey! You will be a great mom.
 Congratulations on the happy news. Love comes in different shapes ans forms. We are really excited to see what your little love looks like. You have just stunned us by giving this exciting news and lovingly given it to this precious little life. Every pregnancy is unique.  I send you best wishes on your pregnancy days until delivery day.
Congratulations, mom to be! Having a baby is the blessing of God and I celebrate with you as you expect a great blessing on the way. Take care always! Pregnancy is a very exciting and wonderful adventure. So just enjoy it. God has given a beautiful soul inside you and he will make this journey of yours wonderful and safe. Do not worry and have fun. I send my prayers and good thoughts for you during this wonderful stage of life.