Getting a promotion in a job is also a great success for career development and stability and such a major achievement for everyone's working life. For a dedicated employee, that is the most priceless expectation. When a promotion has been earned by your coworker, peer, friend, manager, senior, friend, or family member, they merit promotion recognition. It is very essential to establish relationships with everyone around us. We need to give importance and maintain a balance in every relationship both in professional and personal life. If you're working in the corporate world or a member of any business world, you need to understand that work promotions in an individual's profession are hallmark activities. 
Promotions signify the moment at which all the hard work pays off. It is when, because of all the sweat, blood, and tears that they put into their job, a person gets to smile. But it is not very easy to choose the best congratulatory words to let them know that you share in their satisfaction. Congratulations to another person for good fortune for the future will always boost the confidence level to do their best.
In Every workplace, promotion is always desirable for any dedicated employee. It is one of the best moments and things that can happen to everyone's career, those who are highly committed and dedicated towards their work. Especially in the corporate world, maintaining a good relationship with every employee is the most significant thing. If your senior, colleagues, or boss has moved up the career ladder, It's your courtesy to congratulate them on their achievement and promotion. If you want to send a meaningful and heartfelt congratulation message for their promotion, here find the best terms to forward best wishes and congratulation messages to praise or appreciate anyone who has been promoted to a new position in their job.
Congratulation Messages for Promotion
Congratulations to you on this new role in the company, it's really well-deserved advancement for you, good luck with your career.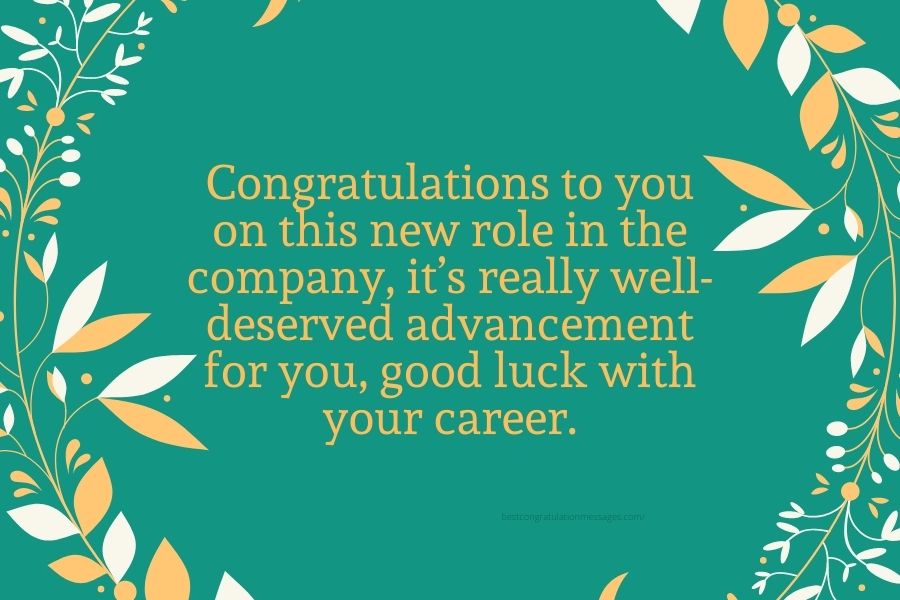 Congratulations dear for your promotion! May this achievement bring you a lot of happiness and joy. Really you did a lot of hard work to reach your path to promotion. 
You are really a deserving person for this promotion. I'm very delighted that you are getting recognized for all the hard work you do.  I hope your promotion brings you joy and deep satisfaction.
Congratulations on your promotion!  I understand that your success has not come easy, and now all that hard work has paid off.
 This position is perfect for you because it will bring new opportunities for you, and that's what makes you more developed in your career. Congratulations!
Congratulations on getting the top position on the corporate ladder! keep your goals in focus and keep achieving many more things in your career. Your perseverance and potentiality have rewarded you. 
Congratulations on getting a new position!!  Your promotion will let you continue to influence others with your optimistic attitude. Always keep continuing to climb the branches of success.
Hearty congratulations on earning this new responsibility and new position! You really deserve the post. 
Congratulations! You have overcome each barrier with confidence and courage. Good things are not always in store for you in life. You need to grab it by working so hard.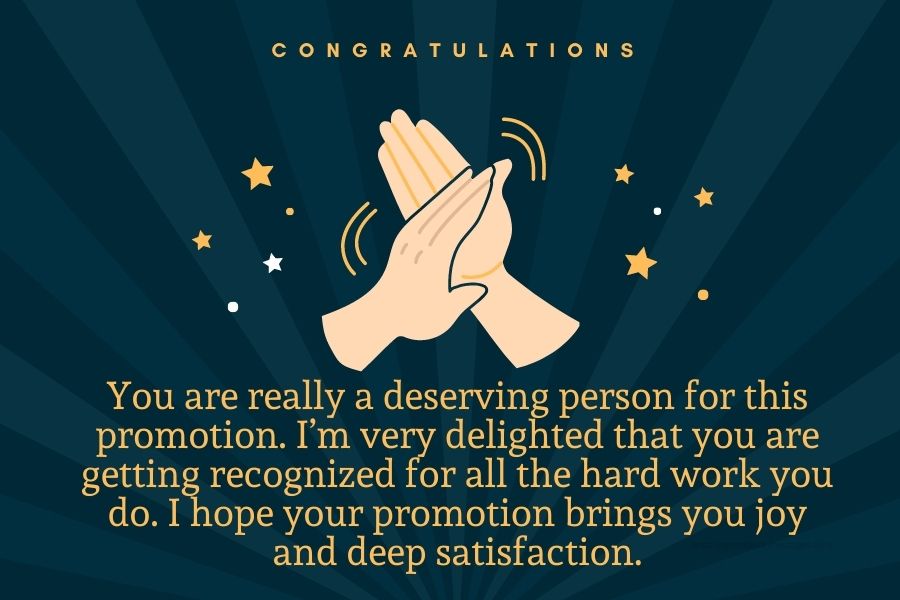 Your dreams came true, due to all your hard work and continuous effort. Keep up the remarkable work in your new position. Congratulations!
Congratulations!  I wish you immense success in getting this new position. 
Congratulations! No one deserves to lead this new position except you. You have the potential to do the best and manage all the things in this position. 
Your extraordinary qualities and potentialities have taken you to the top. You choose not to lose, so your destiny has always been a success. Congratulations!
Congratulations on this great achievement! With your leadership quality, this company will give you a promotion for your good future.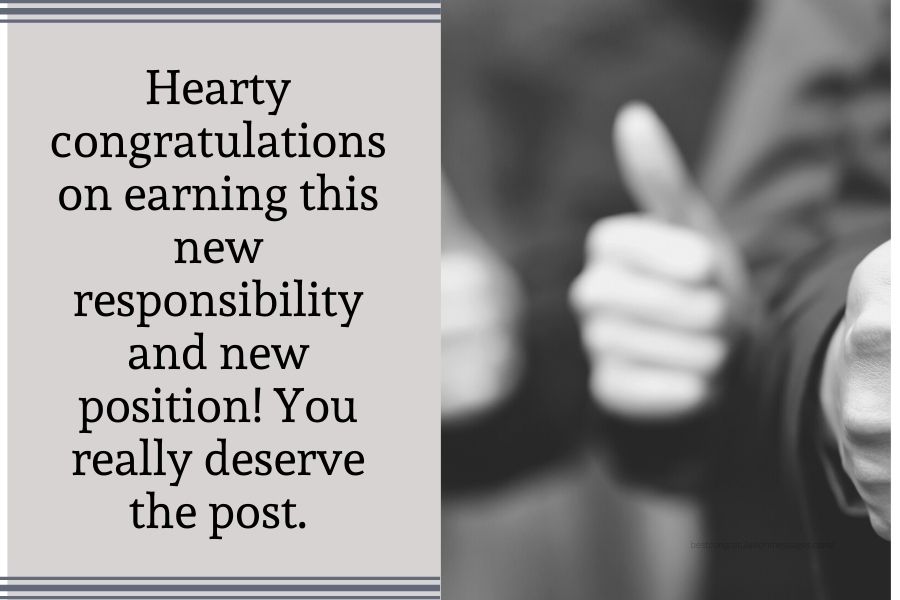 Congratulations!  You are really a deserving employee who deserves to be recognized through this hard-earned promotion. You have given your amazon performance and contribution to this company.
Long quotes
 I express my heartiest congratulations to you for this promotion and thank you for being a great example for all of us. You have made everything possible and successful in your way of life by doing hard labor and continuous effort. Your hard-earned promotion will be the perfect job for you.  Best wishes on your new position!
Congratulations on all you've achieved! You really deserve to take a bow before moving on to your next higher position. As the next level of your life unfolds, I wish you the very best to accomplish many more positions in your career. You deserve the position that you achieved today. You are our perfect manager and leader, and your work ethic is a source of inspiration for all of us.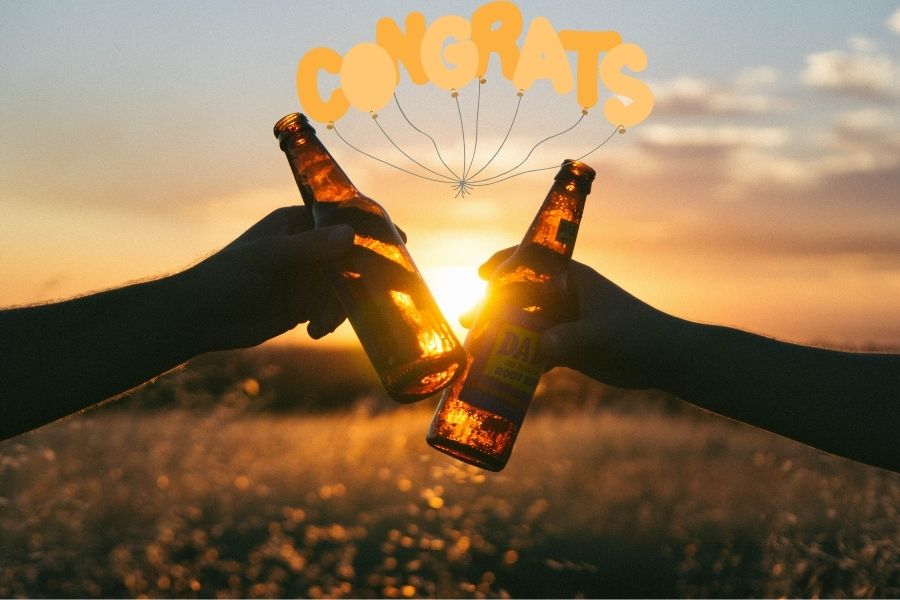 Congratulations on the new position! This is your most precious moment. Enjoy the respect, honor, and sense of pride that comes with it because you earned it by doing a lot of hard work. Really It is just a matter of time until your drive and hard work paid off, and you deserve high appreciation. You did a fantastic job dear! Your work ethic has always been excellent, and I am really impressed by your promotion.
Congratulations dear for your promotion!  I really appreciate your hard work and all the potential that made you reach this position. You have faced every challenge, change, and controversy with grace and patience. Courage and capabilities are two of your greatest tools, and I know you have used them extensively to get your new position.
Congrats! Your new position is a huge milestone in your well-earned career, and I am proud of all you have achieved. Leadership is your best quality, and your star performance shines bright. Best wishes on your promotion! 
Congrats on moving up!  You have done a lot of sacrifices to achieve this position and now it is paying off.  I wish a very pleased and warm compliment to you. This promotion would cost you a stricter timeline, more assignments, more hard work, and yet this is what gets you closer to your achievement! Your stunning performance never fails to inspire us. 
Congratulations on achieving a good position on your job!  Your life is really a book about how to be successful, and it just became the best example of others! You are a great leader and an inspiration for all of us. Best wishes on all you've earned. 
Congratulations to you on your new position! Your brilliant performance has outshone all the rest!  My best wishes on being the best and the brightest!  You have faced many new challenges that make you tick, and you are moving ahead like clockwork. May all your dreams come true, and I wish you great success as you explore new ground.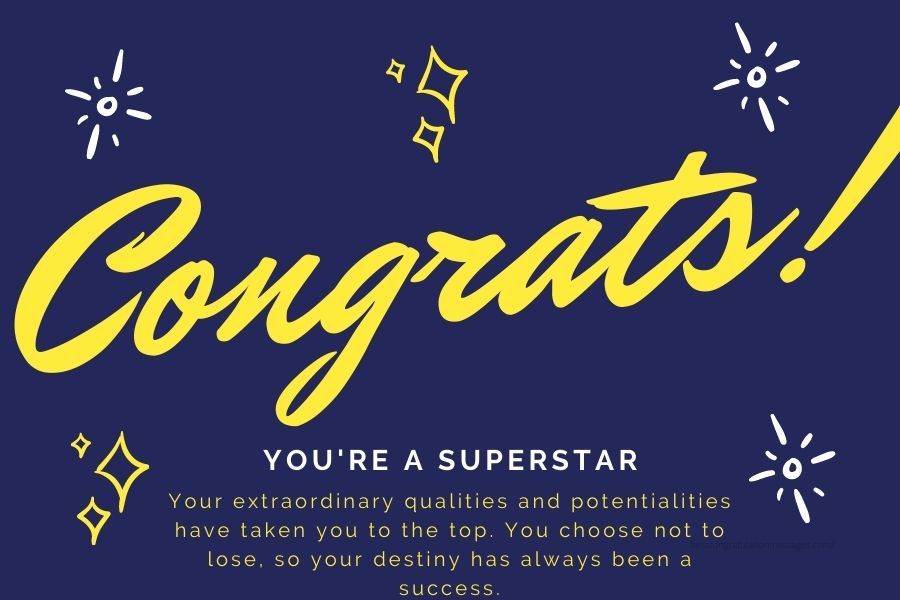 Congrats on your new position! I am very happy about your promotion. Cheers to you for all your accomplishments and achievements ! all your potential and hard work have been recognized.  You deserve to move up. Good luck with your new position!
Congratulations!  Your compassion and self-belief have been the secret to your success. May the almighty increase both as you continue to rise. Your determination and hard work helped you get the position. Congratulations! I am very happy to see that you have fulfilled your dream. Good luck with your new post. Cheers and congratulations, dear.