Having a sister is a blessing for all of us. This beautiful relation is both annoying and fun. Siblings are the most intense love/hate relationship and one of the strongest bonds in the world. it's a unique bond like no other. It is both a sweet and a bittersweet experience by watching your loving sister getting married. You'll need some heartfelt and thoughtful wedding wishes for your sister to commemorate the occasion If your adorable sister is getting married. 
Your sister has been there through all of life's up and downs, and now she's going to be a bride. You must be searching for the coolest yet stirring messages for your sister at her wedding. Your sister's marriage is such a moment that you feel an amount of happiness and excitement, however, in the next moment, you feel a bit of sadness as she will be leaving the parental home.
 Share your heart-touching words and wishes with your sister. With such a precious message, you can enhance your sister's happiness to the maximum and surprise her that she can never forget, so here you can get the best wedding day messages for your sister. Hope this collection of wedding wishes for your sister will help you wish your loving sister a happy married life. To express your great love for her on her wedding day, you can use the following congratulatory wedding messages for your sister.
Wedding Congratulation Messages For Sister
Congratulations my dear sister! You are my loving sister but today you depart from me to your husband. I will miss you always. Happy married life, sweet sister.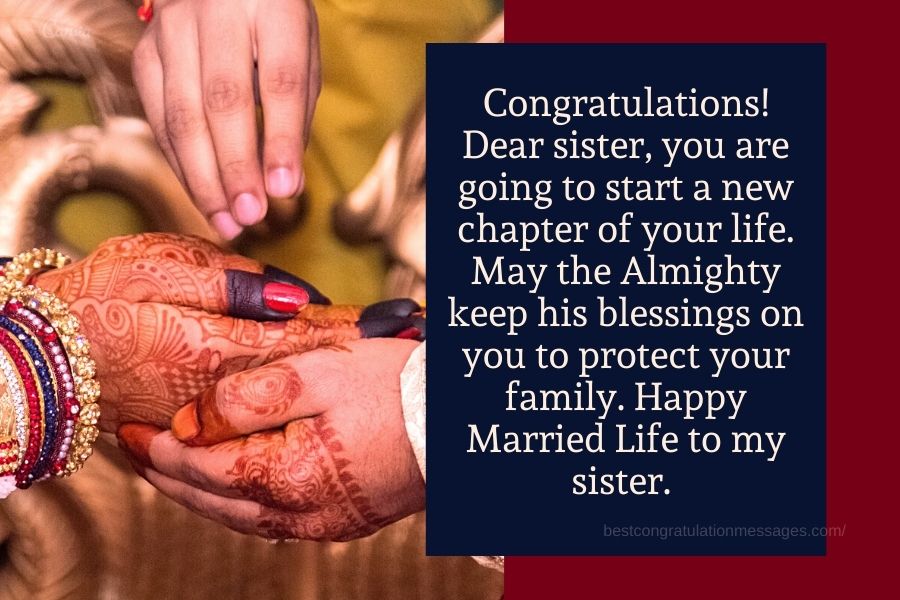 Congratulations! Dear sister, you are going to start a new chapter of your life. May the Almighty keep his blessings on you to protect your family. Happy Married Life to my sister. 
Heartiest congratulations to my dearest sister! The Almighty has blessed you with the best partner who will always keep you happy. Best wishes in your new life. 
Congratulation on the special day of your wedding! You are the prettiest bride, I am so proud to be here. Enjoy your married life.
Finally, your dreams have come true and you'll soon be a wife from today. To you my beautiful and loving sister, I wish you all the happiness in the world. May you enjoy your wedding. Congratulation! 
Happy married life my dear sister. You are my awesome sister who is always there for me in my every up and down. And I know you are going to be a wonderful wife too. Congratulations!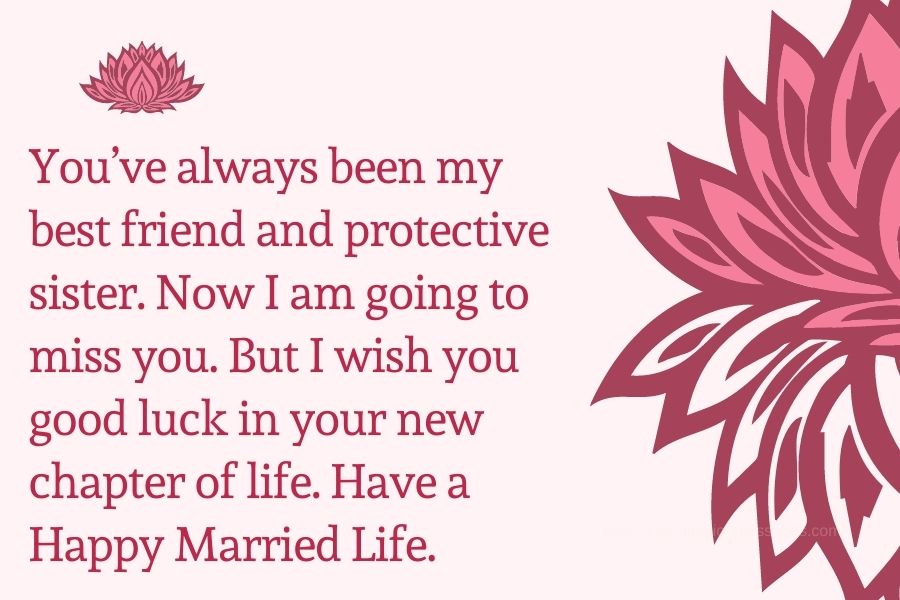 You've always been my best friend and protective sister. Now I am going to miss you. But I wish you good luck in your new chapter of life. Have a Happy Married Life.
Congratulation sister! I am so happy about your wedding but I will miss you so much. You are wealthy more than anything in this world my sweet sis. 
Congratulations! May your married life be a wonderful one. I pray that God may continue your journey forever in true love and affection. I will miss you, Sister.
Congratulations to my sweet sister on finding a wonderful man to start a beautiful life together. Now that you're soon to be married. Wishing you a happy wedding. 
Congratulation to my loving sister on your special day! I love you so much and I hope you will have a wonderful and endless marriage.
Congratulations my sweet sis! As you are going to start a new life, May you be blessed with a happy home. May love and affection be the key to your home. And may God keep his blessings on you always. 
May God protect and guide you all the way through your life journey sister. I know you will be a wonderful wife as well. Enjoy this precious moment with much love. Happy Married Life my sister.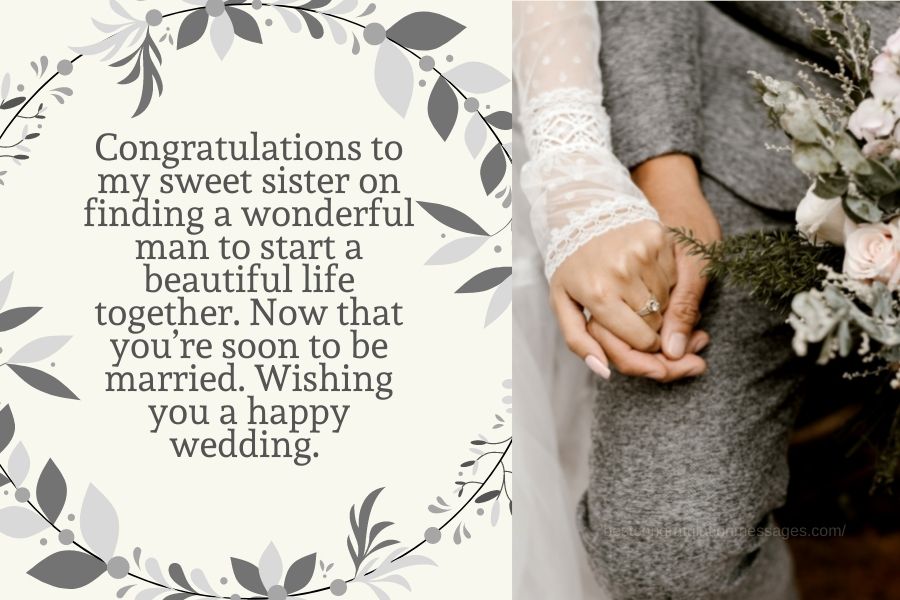 Congratulations! You are the source of happiness and strength to your husband. May this precious day opens doors and bring you all your heart desires. Happy married life sister. 
Marriage Congratulation Messages For Sister
Congratulations! Enjoy and endure your marriage my sweet sister. I pray you'll receive the strength to overcome every situation in life.  Remember not to forget to hold each other by the hands in both good and bad situations in life. Keep being blessed and glorified. Happy married life sister. Have joy. 
Congratulations! Happy married life sister. Nothing is more precious in this world than a sister like you. Don't forget to make your home a great environment to treat everyone with your love and affection! Happy married life sister. May God always protect and guide you to make your home a great one. Remain joyful. May your home be blessed.
Congratulations! I show my deepest love and respect to you both for the life-changing memories you have shown. May your love grow on each passing day and may God bless your home. Settle everything as they come, don't wait till the time is right. Happy Married life sister. May your home be blessed every day.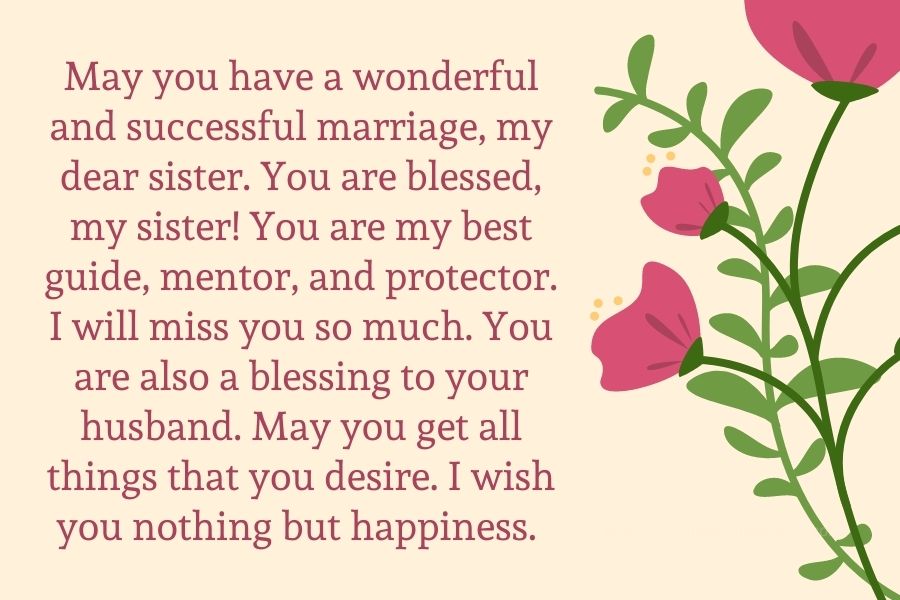 Finally, my sweet sister's dream came true as you always hope for. You look beautiful my dear sis. May you acheive everything that you desire. May this day be one of your happiest days my dear sister and I am sure, you will be the wonderful wife and daughter-in-law.
I am so fortunate to be part of this day where my beautiful sister finally finds the man of her dreams, time to wake up and make it work my beautiful sister!  May God give you a lot of blessings and strength to manage your family life and appreciate everyone around you. May you have a wonderful and blessed marriage, dear sister! Stay cheerful always.
Congrats sis! My beautiful sister is finally going to marry a very fortunate man. Be proud of your man and stand by him always. It is never an easy road but the steps are boldly taken to count. Always keep trust in each other and hold each other hands at every turning point of your life.  Have a beautiful marriage, I love you! 
Congrats my loving sis! It's your wedding day, a day to celebrate the love you found and the love you'll forever hold, and cherish. May God always keep protected both of you, my beautiful sister! Always keep your love and trust in each other and never let go of each other's hands. Wish you good luck!
May you have a wonderful and successful marriage, my dear sister. You are blessed, my sister! You are my best guide, mentor, and protector. I will miss you so much. You are also a blessing to your husband. May you get all things that you desire. I wish you nothing but happiness.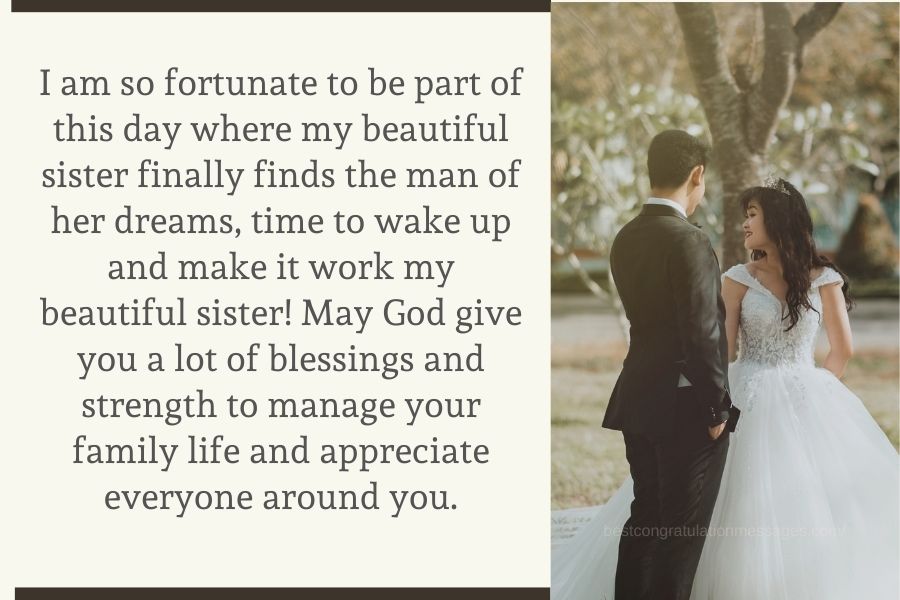 Congratulations on your wedding! Dearest sister, let your wedding day reflect both your inner grace and outward beauty. Many wishes are always with you, my dear sister. May the Almighty always keep his grace and may experience such heartfelt love and affection. Keep shining and make others happy. Stay blessed always.
Congratulations and Best wishes for now and in the future! As you begin the new chapter of your life, I am extremely happy for you today. Best wishes to you and your husband! May God guides and protects you in every step of your life as you start on the new journey of your life, my sister.